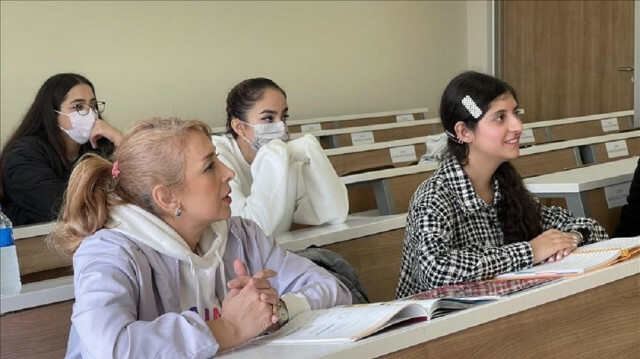 Love for Turkish language has brought an Iranian mother and daughter together at a university in Istanbul.
Daughter Sara Shekarchi, 19, developed fondness for the language after she came for a holiday to Turkey as a child. She started watching Turkish TV series to hone her language skills.
When the time to select a university for education came, she chose to apply for a scholarship in Turkey.
Last year, she took the Foreign Student Examination (YOS) and managed to get into the Istanbul Medipol University.
She attended the first few classes remotely because of restrictions during the pandemic.
During this period, her mother, Maryam Mirzahashemi, 49, was inspired to resume her education.
She too prepared for the YOS and got into the same university.
As universities opened for students after coronavirus-related restrictions were lifted, the mother-daughter duo arrived in Istanbul from Iran.
Speaking to Anadolu Agency, Shekarchi said Turkish TV series are popular in Iran.
She went on to praise the quality of education at universities in Turkey.
"The academic level of universities in Turkey is very high. I did a lot of research and I liked it very much. My father also encouraged me to study in Turkey."
She said it was fun to have her mother as a university-mate. "We go (to university) together. We help each other. We study together. We go to the library."
"My father is very happy. Because my mother and I are learning a new language. We also get to know a different culture. It is a new experience. My father supported and helped us a lot on this. My father teaches at a university in Iran and also wants to come here as a lecturer."
Shekarchi said there were similarities in Turkish and Iranian cultures. "I have never felt like a foreigner in Turkey. People in Turkey are very hospitable. They have given us a lot of support and help."
Expressing her love for Turkish language, Mirzahashemi said she is happy to be at the same university with her daughter.
*Writing by Seda Sevencan