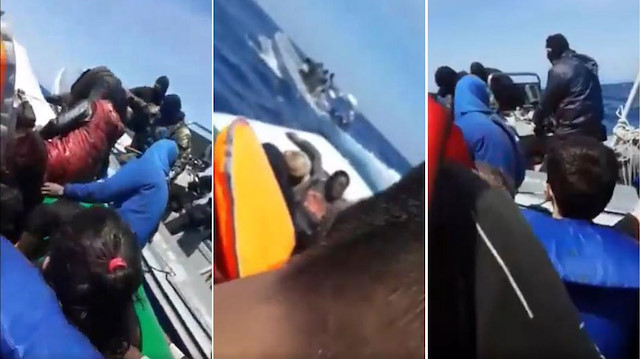 Shocking photos were released by The Times newspaper from footage seen by its reporters showing a group of organized masked men pushing migrant boats into Turkish waters in the Aegean Sea to prevent them from reaching Greece.
"Footage seen by The Times shows two men in balaclavas boarding a boat packed with men, women and children. They remove the outboard motor and leave the boat to drift," it reported on Wednesday.
The video was filmed and shared by a migrant on the boat while fellow passengers scream in panic as men disabled the rubber dinghy.
A separate clip showed a Greek coast guard vessel intentionally sailing close to a migrant dinghy to push it back, leading some of the migrants to jump out and start swimming alongside the boat to pull it back toward Greek waters.
"We have been here for two days and one night," said the man filming the video that was allegedly shot last week off the Greek island of Lesbos.
The Wall Street Journal in mid-May published a report about on the treatment of migrants, saying at least 250 asylum seekers have been forcibly expelled from Greece since late March. It added that the Greek government used the coronavirus pandemic as a cover for their string of abuse.
Turkey has been a key transit point for asylum seekers aiming to cross into Europe to start new lives, especially those fleeing war and persecution.