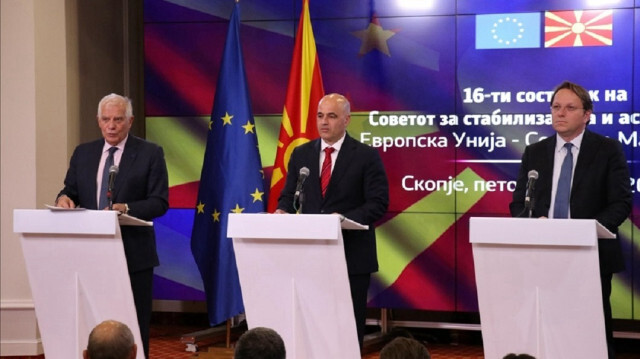 The 16th meeting of the EU-North Macedonia Stabilization and Association Council was held in Skopje on Friday.
North Macedonian Prime Minister Dimitar Kovachevski, EU foreign policy chief Josep Borrell, and EU Commissioner for Enlargement Oliver Varhelyi led discussions focused on the accession strategy, including political and economic criteria.
Borrell after the meeting said that having this meeting in Skopje shows that the EU is approaching N.Macedonia and that the Western Balkans is a key priority of the EU and an important part of the geopolitical dimension.
"The doors for the full-fledged EU membership of North Macedonia are now open," said Borrell.
He added that as a country and a whole society North Macedonia must keep adopting and implementing reforms.
Borrell hailed North Macedonia's full alignment with EU's foreign policy.
"North Macedonia has demonstrated unequivocal support for and full alignment with the EU's foreign policy," said Borrell.
Varhelyi, for his part, said that this meeting is a symbol of North Macedonia becoming an EU member.
"We need national unity to advance membership. We will naturally continue to work on our part to speed up the basis of the negotiation process," said Varhelyi.
Kovachevski said North Macedonia is implementing European values.
"As ambitious as it sounds, I and everyone in the government believe that the Republic of North Macedonia will now be successfully completed in November," said Kovachevski.
Borrell later met with North Macedonian President Stevo Pendarovski and political party representatives.
15 days ago