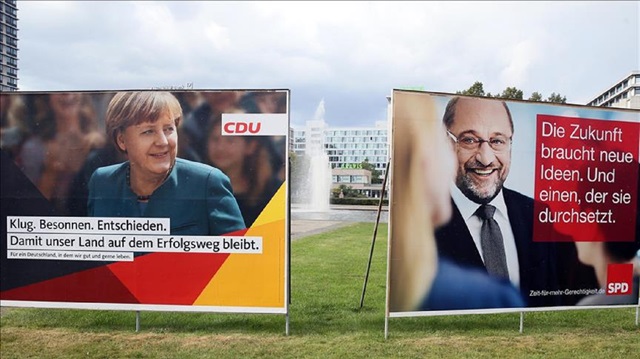 German Chancellor Angela Merkel on Friday clinched a deal with the country's second largest party to enter formal negotiation for building a coalition government.
Senior representatives of Merkel's conservative Christain Democratic Union (CDU/CSU) bloc and the Social Democrat Party (SPD) struck the agreement in their fifth and final round of exploratory talks, which started Thursday morning and lasted into the early hours of Friday.
EU's largest economy spent 110 days without an elected government following the parliamentary election on Sept. 24, 2017, the longest period since the the Second World War.
Speaking to reporters after the over 24-hour negotiations, SPD leader Martin Schulz said they had reached an agreement and would now seek approval from the party organs to enter formal negotiations on building a coalition government.
Negotiation teams of the three parties have drawn up a 28-page document, which tabulate agreed points in various policy areas, including migration, health insurance and tax cuts.
Christian Democrats agreed to SPD demands such as tax relief for low income families, equal financing of health insurance by employees and employers, and ensuring adequate pension.
On the contentious issue of family reunification for refugees, the parties agreed to set a limit of 1,000 people per month, according to reports.
The SPD is scheduled to hold an extraordinary party conference on Jan. 21 to seek approval from its delegates for entering negotiations for the coalition government.
Jusos, the youth-wing of SPD, strongly opposes a coalition government, arguing that election results meant voters have rejected such a move.
Merkel's CDU/CSU alliance emerged as the largest bloc in the parliament following September's federal election, but they failed to secure an absolute majority. It needs the support of either the SPD or two smaller parties to form a government.