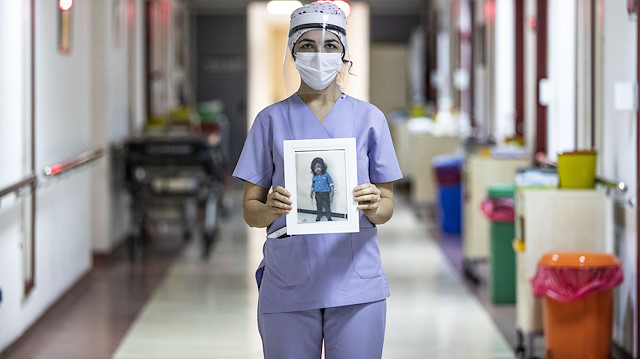 Millions around the world are at home trying to curb the spread of COVID-19, but the burden of household chores has put additional pressure on mothers with extra responsibilities.
The world will mark Sunday, May 10 as Mother's Day as a way to remember and respect the women who gave them life.
But, a lot of mothers this year will expect more than presents. And helping to shoulder some of the responsibilities at home could be a good start.
Halime Akarsu, a married mother of four children, resides in an urban district of Turkey's capital Ankara.
The coronavirus has had a huge effect on her responsibilities for three of her children -- university students who are studying in different provinces and returned home following the closure of schools as part of coronavirus measures.
"In a standard day, I'd cook for my husband and myself, but the return of the children changed all this as I cook more often and spend much more time in the kitchen," she said.
Not aware of issues related to the virus at the beginning of 2020, her life suddenly changed with social distancing and the stay-at-home policies that were implemented.
"Hygiene is of the utmost importance nowadays and I started doing laundry at least three times a week. It is really difficult to take care of all these home duties alone," she said. But Akarsu considers herself "lucky" because her family recently began to help with household chores.
The best present Akarsu could receive on Mother's Day would be if her family took on more responsibility with the chores, according to the 54-year-old mother who used to work as a clerk before retiring.
Aside from the extra work, Akarsu sees a plus side to measures to help halt the spread of the virus.
"It's clear that this home isolation brought more responsibilities, but it's good to see the family all together," she said. "Maybe, this will be the last time we're all in the same house as a family -- the kids are growing up fast and will go in their own directions soon."
Asked if her children help her when she goes to buy groceries, "hell no," was her response. But she now views the "burden of past days" as an opportunity to socialize, to some extent.
"I miss the days when I complained about leaving the house to buy groceries," she said. "This virus made me realize how insignificant things could be a source of joy in desperate times."
Another mother living in Ankara said the outbreak in Turkey also led to panic within her family and now, everyone in her household has begun to pay extra attention to hygiene and general cleaning.
The pandemic brought an additional burden of chores for Cigdem Gencturk, but she sees the glass half full and enjoys her family's "us-time" at home as they rarely leave their apartment for fear of infection.
"We usually make video calls with my married daughter. When we meet, we leave social distance between us," she said. "We have fun talks while watching game shows, etc. So, we now know each other's tastes better."
"In this process, we understood how beautiful our life used to be," said Gencturk.
Cooperation is one of the best gifts that can be offered on Mother's Day, said Gencturk, who believes people should be "patient and disciplined" with their families and the public until the end of the pandemic.
She hailed healthcare workers, police officers and public employees for their devotion amid the pandemic and said people should follow rules set by authorities.
Turkey registered more than 137,000 virus cases and nearly 90,000 patients have been discharged from hospitals. The death toll stands at 3,739 and fatalities are on the decline in recent days
More than 4 million cases have been reported in 187 countries since the virus emerged in China last December, with the hardest-hit areas being the US and Europe.
A significant proportion of COVID-19 patients, over 1.3 million, have recovered, but the virus has claimed almost of 280,000 lives, according to data compiled by US-based Johns Hopkins University.