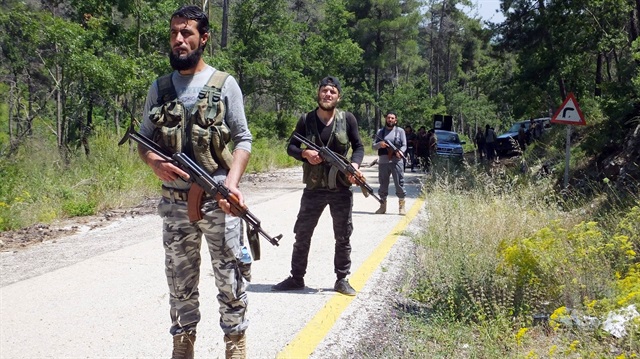 Omar Abdullah, commander of the Sultan Abdulhamit Han Brigade in Syria, said on Monday that the Turkmen brigades have recaptured a strategic point on Mount Turkmen from Assad forces backed by Russia, Iran and Hezbollah.
"Mount Turkmen has not fallen to Assad forces. They only seized a part of Kızıldağı," Abdullah said.
In recent days, Syrian regime forces started a heavy assault on Mount Turkmen in Bayır Bucak, a Turkmen populated area in Latakia province.
Turkmens were under intensified Russian airstrikes while Iranian forces and Hezbollah from Lebanon launched a joint land attack with Assad forces. Russian warships fired missiles as tanks and cannons attacked unarmed civilians in Mount Turkmen area.
"We are under heavy bomb attack. The regime forces backed by Russian and Iranian forces as well as Hezbollah from Libya, continue their intensified attacks in the Bayır-Bucak area. Our youth are fighting against the enemies like lions. They are trying their best not to lose even a piece of land." Abdullah said.
He added: Their [Russian] fighter jets are bombing while missiles fired from the naval ships and cannon, tanks and mortars fired on unarmed villagers.
Abdullah said that airstrikes had intensified with the beginning of land assault since last month, but, he added, the attacks stepped up to a high level since last week.
"We are the grandsons of the Ottomans, no one can take these lands as long as our last drop of blood remains to our body," he vowed.
Alparsalan Çelik, a commander of the "Costal Division" of Turkmen Brigade, sent a video message to Assad forces and allies. "Everyone should know his place. Mount Turkmen is the homeland of Turks. Mount Turkmen will not fall. We will fight till our last drop of blood."
Turkmen fighters recapture Zahia Mountain one of the two strategic point of Mount Turkmen area.
A top level official from the Turkmen brigade said their fighters resumed a fresh attack to recapture Kızıldağ, another strategic hill in the area.
The official also denied claims that 40,000 civilians headed to Turkey from the Mount Turkmen. In recent days, a total of 2,000 people including 507 families reached Turkish border. Men of the families returned to the battlefield, leaving their wives and children in the camps across the border.
Nearly 5,500 people took shelter in the Yamada camps near Yayladağ border crossing of Hatay province. At least 2,000 people, mostly Arabs, came from the Mount Kurd. Turkish authorities distributed 510 tents in the first phase, which is expected to be increased to 1,000.
Turkey has already been sheltering 20,000 Turkmens in 4 camps.
Civilian Turkmens who fled regime attacks described the horrible scenes and called on the international community to save civilians.
"Russian aircrafts attack us from the air while military kills us from land. Our hearts don't want to leave our land, we want to stay here, die here. But I couldn't leave my child alone," said Um Muhammed, who came to Turkish border with his family.
Halif Ebu Omer, who reached the tent city by ambulance, said, "Missiles were dropping like rain. We couldn't stay in our homes. Thanks to Turkish nation, they sent us tents."
"We have many martyrs on Mount Turkmen. Russian aircrafts still continue to attack. We want Turkey's help," Meryem Um Mustafa said.
Turkish PM strongly condemned the attacks and held an emergency security meeting in Ankara to discuss the latest situation in Mount Turkmen.
According to Reuters, Turkey called for a UN Security Council meeting to take action against Russian assaults on Mount Turkmen.
Hundreds of thousands of Turkish citizens demonstrated around the country to protest the attacks on Turkmens. They expressed their solidarity with the people in Bayır-Bucak and urged Turkish government and the international community to take immediate steps to save civilians.