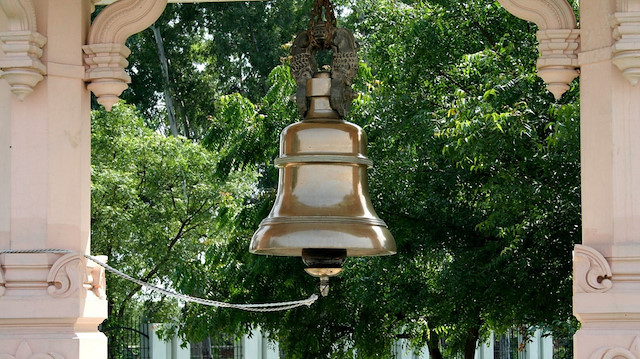 In the wake of the deadly coronavirus, which has claimed hundreds of thousands of lives across the world, a Muslim mechanic in India developed an innovative bell which can be rung without being touched for a major Shiva temple in the Mandsaur district of Madhya Pradesh.
62-year-old Nahru Khan equipped the bell with an electric sensor after temples were reopened in India with strict measures that included not touching bells to prevent the spread of the pandemic, reported the Indian Express.
The development of the bell in question with its electric sensor technology is reportedly one-of-a-kind in India.
"It's a contact-less bell. It rings just when any devotee or priest gesticulates at ringing the bell from a distance of a feet-and-a-half. This is an ultimate gift to our temple from Nahru Khan, who truly represents the pluralistic fabric that our country is proud of," said Kailash Pandit, a famous priest of Pashupatinath temple.
"How can we see Adhan happening at mosques, but the Shiva temple being bereft of the resonance of bell. I thought of doing something to make the bell contactless, but yet its spiritual sound resonating through the entire temple and finally my idea of fitting the bell with a sensor clicked. It's my gift to the temple and its devotees," said Nahru Khan.
This isn't Khan's first invention during the COVID-19 crisis in country; he has even developed soundproof generators for temples in Mandsaur.
"I don't want anything for developing the sensor powered bell at the Pashupathinath Temple; all I want is to pray to the God to rid us all from this killer COVID-19 pandemic," Khan continued.
As owner of NK Engineering and Electricals, the benevolent mechanic also donated the unit's earnings and distributed food to over 2,000 people daily to contribute to the fight against the COVID-19 crisis across the country.
India, the fourth worst-hit nation in the world, saw on Sunday its highest daily increase in virus cases. The South Asian country reported 11,929 new infections, including 311 deaths, in the past 24 hours.
The tally reached 320,922 cases, including 9,195 virus-linked deaths, according to the Health Ministry.
The government on May 30 eased the virus lockdown across the country of over 1.3 billion people. Restrictions, however, have been extended in containment zones.
Meanwhile, Home Minister Amit Shah held an important meeting to tackle the disease in Delhi.
He announced various measures for the national capital such as increasing testing three times in six days, providing 500 converted railway carriages to create 8,000 more beds for coronavirus patients, and steps for the availability of beds in private hospitals at lower rates.
After Maharashtra and Tamil Nadu, Delhi is the third worst-hit state in India and the situation seems to be going out of control.