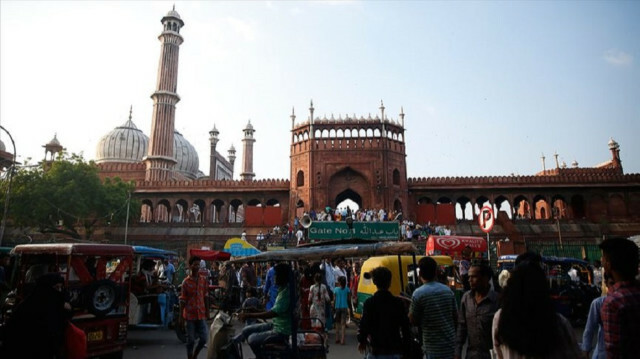 There is a need to focus on the education of Muslims in India with special attention on the elementary education of children, the newly elected chief of a renowned Islamic organization in India has said.
Maulana Ahmad Wali Faisal Rahmani, who became the eighth emir of Imarat Shariah, told Anadolu Agency in an exclusive interview that Muslims in the country should have their own data gathering organization to study the problems which plague the community in the country.
The Imarat Shariah, based in the eastern state of Bihar -- which has a 17% Muslim population-- is also known for Darul Qaza, where arbitration, negotiation and reconcilliation is done based on Islamic law, and which according to the experts, are emerging as an 'effective dispute redressal" forum for Muslims in India. The group has mainly influence on the states of Bihar, Jharkhand and Odisha and parts of West Bengal.
"Every Muslim and every citizen should get an education. One should always be seeking education. I see education as a necessary component of making both this life better and hereafter as well," said Rahmani.
He said that in India both Muslims and the government should focus on providing education starting at the elementary level. "It is the number one predictor of success at the middle and higher level of education. We cannot overlook the need for elementary education," he added.
Quoting statistics of a government committee known as Sachar Committee which was appointed in 2005 by the then Indian Prime Minister Manmohan Singh to find the social, economic, and educational status of the Muslim community of India, Rahmani said that around 25% of Muslim children have dropped out or are not going to school.
"We know that 134 out of every 1,000 Muslim students have not attended even a single day of school or Madrassa. We are only graduating only 17% of our students through 10th grade. This is a paralyzing situation for the community and we need to rectify this," he said. "The Ummah and the government need to work together to fix this condition."
Rahmani, who has studied Technology, Operations Management and Islamic studies, and has worked with various companies, said the problems of "Muslims in India are an Indian problem".
"I see it is an Indian problem. What is the Indian problem? It is a problem of disparity, inequity, and inequality. Any society that has a disparity will be the society in perpetual conflict. A society in conflict will result in a lack of peace and trust -- and therefore far from the human actualization that can be achieved," he said.
"If you look at Muslims, they are far less educated, have a lot less than the rest in terms of wealth, education, and access to services. At any point in time, when you have disparity politically, culturally, educationally, any of contexts that we live in, it creates conflict."
He said that the Indian government should provide equal opportunities to all citizens. "The easiest way to remove the conflict is to create a just society by reducing disparity, empowering people to engage at an intellectual level, and providing parity at all levels and equality in a true sense. [A] just society by definition will provide equal opportunities for everyone, so India needs to provide equal opportunities to all its citizens," said Rahmani.
He also pointed out the challenges ahead in the new role. "The Ummah right now is at point A and we have to take citizens to point B. Whether it be communication, education, or from a cultural perspective, somebody needs to define the problem, validate the underlying concerns; design both the final and intermediate outcomes, and then help everyone move forward to that designed stage," he added.
The leader of the top Muslim group also said that his group is now working to have an organization that will study the situation of Muslims in India.
"One of the major aspects is awareness of our current situation. One of the things we are lacking in India, as per my knowledge Muslims don't have any data organization that can take the pulse of the situation of Ummah in India. For example, how Islamophobia is affecting our kids from age 5-9; How is Islamophobia affecting Muslim students at the college level? What is our youth, children, old people sensing, feeling, and thinking, we don't know that...," he said. "I want to say that Muslims should have their own data organization, study their own issues, to do a diagnosis that will help with designing the solution of the problem...from my perspective, we want to create a society that is just, balanced, where all citizens are living in harmony."
According to Rahmani, Imarat Shariah wants to increase the availability of existing Maktab institutions (elementary religious schools for Muslims). "We want to partner with the government as much as possible and open Makatib at the Mohalla level or combine two to three neighborhoods and establish a Maktab," he said. "My intent is to provide elementary education as much as possible. Since elementary education is the number one predictor of success for future education."
1 yıl önce