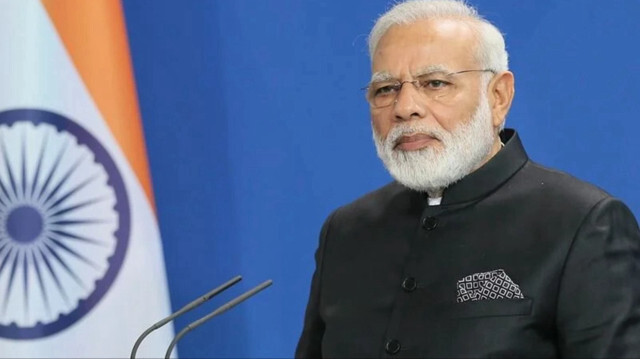 Indian Prime Minister Narendra Modi
Indian Prime Minister Narendra Modi said that it is the mutual trust and respect that bind India and Australia.
Modi and his Australian counterpart Anthony Albanese were at Qudos Bank Arena in Sydney, where they addressed the Indian diaspora at a community program. A large number of people had gathered at the park to welcome both leaders.
Modi, who is on a three-day visit to Australia, said that India is always ready to help others whenever there is a disaster.
Modi thanked Anthony Albanese and NSW Premier Chris Minns for their hospitality on stage, calling Australians "big-hearted", according to The Sydney Morning Herald.
Modi also announced that India will open a new consulate in Brisbane soon.
Ahead of the Indian premier's arrival at the Olympic Park, a group of Khalistan supporters gathered outside the venue to protest his visit to Australia.
Later, a group of Modi supporters also came out and began chanting anti-Khalistan slogans, according to a local journalist.
A part of India's Sikh community launched the Khalistan movement in the late 1970s, triggering a wave of deadly violence that claimed thousands of lives in Punjab, where Sikhs are the majority. While Sikh secessionism has largely died down in India, pro-Khalistan groups have remained active internationally.
Modi arrived in Sydney on Monday as part of the third and final leg of his three-nation tour after visiting Papua New Guinea. Modi is visiting Australia as prime minister for the second time.
Modi told local media after his arrival that he wanted closer bilateral defense and security ties as China's influence in the Indo-Pacific region grows.
Australian Premier Albanese said in a statement: "I am honored to host Prime Minister Modi for an official visit to Australia."
Modi will hold bilateral talks with Albanese on Wednesday. A dinner will also be organized for Modi, according to the Indian Ministry of External Affairs.
Earlier, Modi also interacted with Australian business leaders.
- 'India: The Modi Question'
The BBC documentary titled India: The Modi Question, is set to be screened at the Australian Parliament House in Canberra.
The two-part documentary, which focused on Prime Minister Narendra Modi's role in the 2002 Gujarat riots, was banned in India immediately after its release. The movie will be screened by Human Right Groups and diaspora organizations in Australia.
On Monday, the Delhi High Court issued a notice on a plea by a non-government organization seeking permission to sue the BBC over the documentary.
Ahead of Modi's visit, Australian senators Jordan Steele-John, David Shoebridge, and Mehreen Faruqi wrote a letter to Prime Minister Albanese, urging him to raise concerns with the visiting premier about ongoing human rights abuses which are contributing to the persecution of several minority groups in India.
Meanwhile, Human Rights Watch on Monday urged the Australian prime minister to talk to Modi about human rights violations in India.
In a statement, Human Right Watch said: "When India's Prime Minister Narendra Modi visits Sydney this week, there should be no empty clichés from Australia's leaders simply hailing India as "the world's largest democracy."
"Instead, Prime Minister Anthony Albanese should focus on the facts. Scores of rights activists are in jail across India at present while others are battling politically motivated investigations," said the statement.
"Modi's Bharatiya Janata Party (BJP)-led government has been tightening its grip on civil society, using draconian laws to arrest and intimidate activists, journalists, opposition leaders, academics, peaceful protesters, and critics of government policies. This is shrinking the space for free speech, with independent journalists forced to self-censor," it added.
8 gün önce