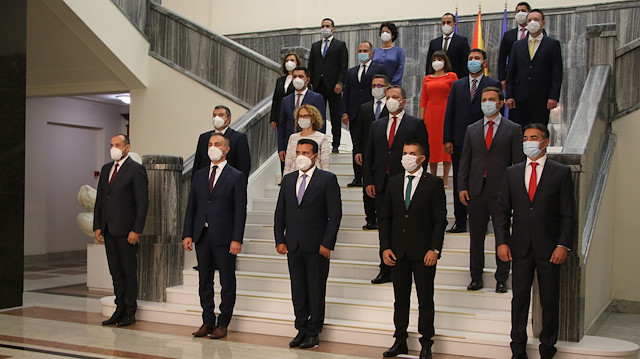 North Macedonia's parliament has approved a new left-wing coalition government.
The Social Democrats had declared victory in snap elections held on July 15, and late Sunday, after two days of debate, lawmakers voted 62-51 in favor of the new government led by Social Democrat leader Zoran Zaev, while seven members were absent.
Zaev and his coalition partners won 62 of the parliament's 120 seats in the election which returns Zaev back at the prime minister's office.
According to the power-sharing deal with the ethnic Albanian Democratic Union for Integration party, Zaev will hand the office over to an ethnic Albanian politician proposed by his junior partner 100 days before the end of the government's four-year term in 2024.
It would be the first time a representative of the largest minority ethnic community to hold that position since North Macedonia split from the former Yugoslav federation in 1991.
The Social Democratic Party of Macedonia (SDSM), which has been in power since June 2017, made a pre-election alliance with the center-right ethnic Albanian party BESA Movement, the Liberal Democratic Party as well as representatives and parties of the Turkish, Bosniak, Roman, Ulah, and Serbian communities.
In the new Cabinet, SDSM will run 11, The Democratic Union for Integration 6, and the center-right ethnic Albanian party BESA Movement will run 1 ministry.
The Cabinet includes the following ministers: Defense Minister Radmila Sekerinska, Interior Minister Oliver Spasovski, Health Minister Venko Filipce, Justice Minister Boyan Maricic, Education and Science Minister Mila Carovska, Transport and Communications Minister Blagoy Bocvarski, Culture Minister Irena Stefoska, Labor and Social Policy Minister Yahoda Shahpaska, Foreign Minister Bujar Osmani, Finance Minister Fatmir Besimi, Economy Minister Kreshnik Bekteshi, Information Society and Management Minister Yeton Sakiri, Environment and Spatial Planning Minister Naser Nuredini, Agriculture, Forestry and Water Affairs Minister Ariyanit Hodja, and Minister of Local Government Goran Milevski.
Also, Artan Grubi will serve as the first deputy prime minister and minister of political system, while Nikola Dimitrov as deputy prime minister for European affairs, and Lyupcho Nikolovski to serve as deputy prime minister responsible for anti-corruption.
Speaking before the parliamentary vote, Zaev pledged to better standards and pespectives for citizens..
"We will have a country and institutions that we can all be proud of with our determination and cooperation," said Zaev promising to a stable and predictable political period with a full commitment to the economy.
In North Macedonia, to form a government, a parliamentary majority consisting of 61 deputies must be achieved in the 120-member parliament.