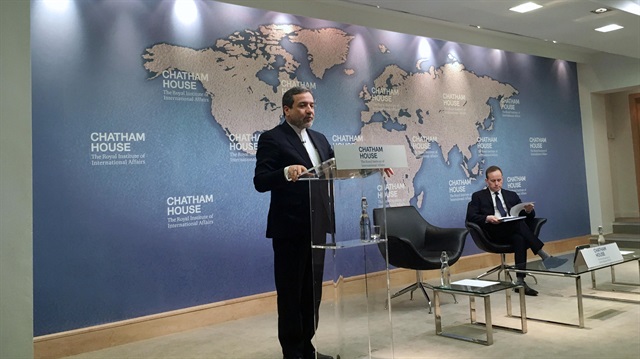 Iran's Deputy Foreign Minister Abbas Araqchi speaking at the Chatham House think tank in London, Britain February 22, 2018.
Iranian Deputy Foreign Minister Abbas Araqchi has said that the 2015 nuclear deal between Tehran and the West required more concessions from Europe in order to remain intact, Iran's Islamic Republic News Agency (IRNA) reported Friday.
IRNA cited remarks made by Araqchi in an interview with Euronews in which he said "the majority of the Iranian people don't trust Europe; the Europeans must try harder to win this their trust".
"Many Iranians believe the US withdrawal from the [nuclear agreement] is just a game of 'good cop-bad cop', with Europe playing the role of the good cop," Araqchi asserted.
He said Iran wanted to see the "full implementation" of the deal's terms, which, he added, could not be achieved when one of the parties to the agreement was facing the threat of economic sanctions.
"We don't know how Europe plans to preserve the agreement while bypassing U.S. sanctions [on Iran]," the official said.
"What concerns us is the continued presence of European firms in Iran, the sale of crude oil and the deposit of oil revenue in our bank accounts without hindrance," he stressed.
He added: "There must be a banking link between us and Europe. It is up to the Europeans to find a suitable channel."
"Iran is running out of patience," he went on. "There is a possibility that the country [Iran] could withdraw from the deal in coming weeks."
Araqchi also said that ongoing talks with the EU were unlikely to save the agreement in its current form.
"We are still waiting -- and hoping -- that the European proposals will be enough to keep Iran in the deal," he said.
Last month, U.S. President Donald Trump withdrew the U.S. from the nuclear deal, which was signed in 2015 between Iran and the P5 1 group of nations (the five permanent members of the UN Security Council plus Germany).
The 2015 deal had placed restrictions on Iran's nuclear program in exchange for billions of dollars in sanctions relief.
During his electoral campaign in 2016, Trump had criticized the agreement, describing it as the "worst deal" he had ever seen.
Other members of the P5 1, meanwhile, say the deal in its current form represents the best way to reign in Iran's nuclear program.
On Tuesday, French President Emmanuel Macron told Israeli Prime Minister Benjamin Netanyahu that the agreement should be preserved with a view to maintaining regional peace.
5 years ago