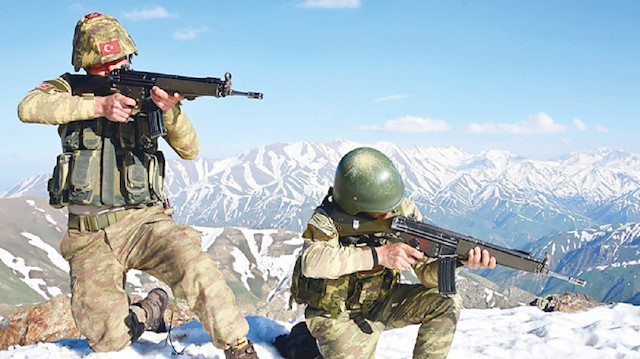 As Operation Claw in Northern Iraq gains speed, Turkey's military campaign is set to deal a great blow to U.S. support for the Kurdistan Workers' Party (PKK), putting an end to the route used to send supplies to terrorists.
A 2500-strong force consisting of Turkish commandos, which will later increase to 6,000, is currently detecting and destroying PKK shelters, hideouts, caves and munition depots.
By establishing security along the Hakurk-Duhok-Zap line, Turkey will sever the land connection of the U.S., which supplies the PKK with medicine, food, weapons and ammunition, to the terror group.
Northern Iraq's Qandil Mountains have been a haven for PKK terrorists over the past few decades. Considered as the main base of the PKK, which control checkpoints and entrances to the mountains, the structuring in the area is used for cover and concealment by terrorists.
After Turkish troops establish new bases in Iraq and severe the terror group's link to Syria, the green light will be given to launch a military operation East of the Euphrates River in Syria, which is currently occupied by the PKK. Thus, the terror group won't be able to use its Qandil, Erbil, sulaymaniyah and Sinjar links like it used to.
Turkey launched "Operation Claw" against PKK terrorists in Northern Iraq's Hakurk region on Monday, according to a statement by the Defense Ministry.
The Turkish Armed Forces (TAF) have so far neutralized 19 terrorists within the scope of the operation. Turkish authorities often use the word "neutralized" in their statements to imply that the terrorists in question either surrendered or were killed or captured.
In its more than 30-year terror campaign against Turkey, the PKK -- listed as a terrorist organization by Turkey, the U.S. and the EU -- has been responsible for the deaths of nearly 40,000 people, including many women and children.
#
Kurdistan Worker's Party
4 years ago