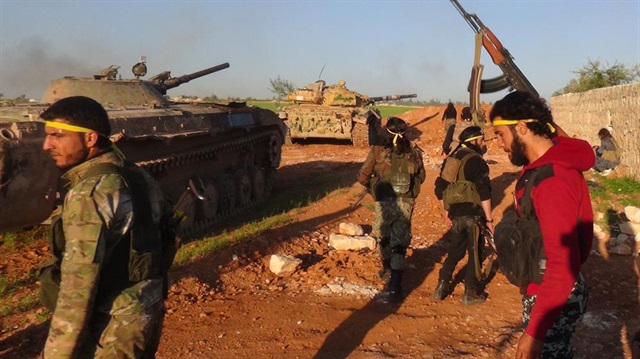 Four opposition brigades fighting against Syrian regime forces near Aleppo agreed to launch a joint operation to capture Aleppo.

The groups, led by al-Nusra Front, contain Aharar ash-Sham, Ajnad al-Sham and Liwa al-Haqq.

According to reports from local activists the opposition group had already progressed in southern Aleppo countryside and controlled al-Eis town and surroundings hills.

Associated Press News agency also reported heavy fighting between Russia and Iran backed government forces and opposition fighters outside the country's second largest city of Aleppo. Heavy fighting in Aleppo puts Syrian truce at risk.

Britain-based Syrian conflict monitoring group said at least 25 pro-government and 16 opposition fighters died in the clashes in south of Aleppo.

But the opposition fighting groups said they killed 65 regime forces in last two days since the beginning of the "big Aleppo Operation."

The clashes are reported the most serious since the partial cease-fire came into effect on Feb. 27.

Opposition groups said they took the decision to launch the big Aleppo operation because Russian and Syrian forces do not obey the rules of cease-fire and continuously attack opposition positions.

Following the truce deal in late February Russian and regime fighter jets conducted heavy bombardment, said opposition group.

Some days the jets launched more than 200 airstrikes in conflict areas, it said.

The big Aleppo Operation is also supported by Jaish al-Fatah coalition and local fighting groups.

The opposition's advances toward the most strategic point of the city threaten to reverse some of the gains made by the government during the Russian campaign.