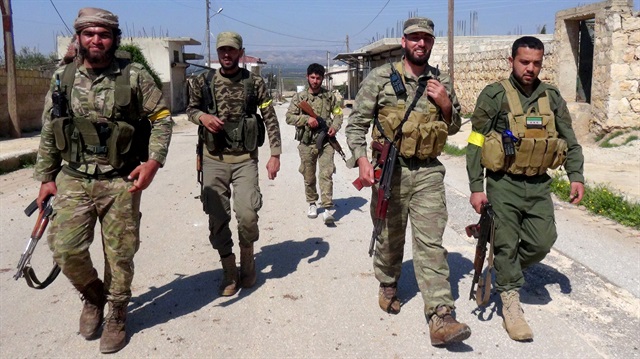 The Free Syrian Army (FSA) has completed the majority of its preparations for a possible operation launched by Turkey in the northern Syrian town of Manbij, and are awaiting orders approximately 70 kilometers away from the city.
A force of 12,000 FSA troops – 3,000 of whom are Manbij locals – are waiting for Turkish President Recep Tayyip Erdoğan to initiate the operation. Erdoğan has stressed that Turkey was ready to take all necessary measures in case of a possible threat to the country.
Turkey and the United States have reached "an understanding, not an agreement" over Manbij, Turkish Foreign Minister Mevlüt Çavuşoğlu said last week. If an agreement is reached between Ankara and Washington, the numbers of the FSA force will be reduced by half.
Operation Olive Branch weakens terror group
As a result of its geography, an operation in Manbij would be conducted more easily than was done so in Afrin. The Turkish Armed Forces (TAF) and FSA are aware of the tunnels built by the Kurdistan Workers' Party (PKK) and its Syrian affiliates, the points where heavy weapons provided by the U.S. are located and the number of terrorists.
The Democratic Union Party (PYD) and its armed wing the People's Protection Units (YPG), which were swiftly defeated in Afrin, have suffered a great blow to their morale and their grip on the region has been severely weakened.
On March 18, Turkish-backed troops liberated the town center of Afrin, followed by security sweeps for mines, improvised explosive devices, and terrorist hideouts as part of Operation Olive Branch.
Terror group uses U.S. weapons
FSA sources indicate that the PKK/PYD-YPG have stationed weapons provided by the U.S. across various points of Manbij, and that the terror tunnels in Manbij will fail to protect them, just as it failed in Afrin. The terrorist organization built tunnels at Manbij but they are smaller than those in Afrin.
The FSA have completed map preparation for the Manbij operation, and knows where terror bases and various sized tunnels are located.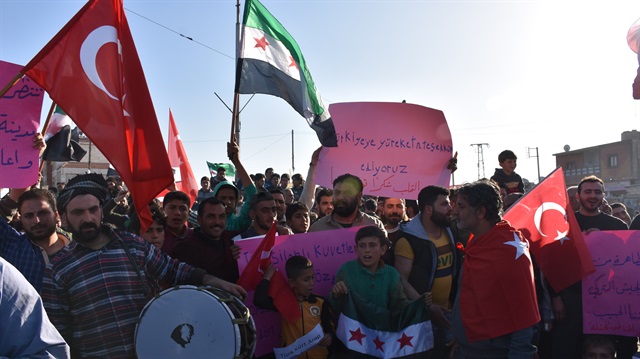 Cleared in 10 days
Taking into account the mountainous terrain and unfavorable weather conditions, Afrin was cleared of terror elements in 58 days. However, Manbij is geographically flat. FSA forces say that the region can be liberated in 10 days if the U.S. withdraws its support from the PKK/PYD-YPG.
The preparations of the terror group such as thick concrete reinforced walls and rooms like in Afrin are not found in Manbij. It is reported that these elements will accelerate the completion of the possible operation.
Nearly 2,500 terrorists in Manbij
There are approximately 400 terrorists who came to Manbij from Qandil, and 2,000 terrorists local to the region. It is assumed that once the TAF initiates the operation, "terrorist support" from Raqqa, Kobani and al-Hasakah may arrive.