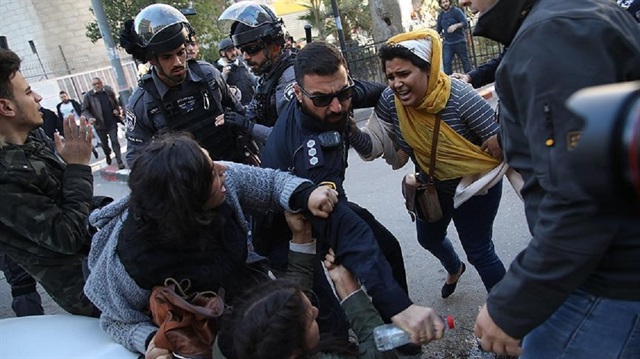 Over two hundred Palestinians were injured in fresh protests in the occupied West Bank, East Jerusalem and Gaza strip Saturday amid tension over U.S. President Donald Trump's recognition of Jerusalem as Israel's capital.
In a statement, the Palestinian Red Crescent updated their numbers with at least 231 Palestinians injured so far during the protests. The organization initially announced 92 had been injured.
In East Jerusalem, 12 people were wounded by Israeli police, according to the statement.
In Ramallah, Bethlehem, Tulkarim and Nablus cities in West Bank, as well as Gaza, the organization said 219 were injured.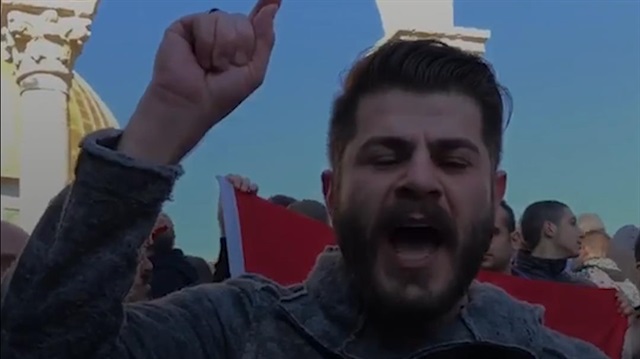 At least 48 demonstrators were also injured by rubber bullets and suffered from gas inhalation when Israeli forces dispersed protesters in the West Bank cities of Ramallah, Bethlehem, and Tulkarem according to the first statement by the Palestinian Red Crescent.
In Gaza, 32 Palestinians were injured during the clashes between the Palestinian youth and the Israeli army at the border crossing.
Palestinian groups have called for fresh mass demonstrations across the West Bank and East Jerusalem on Saturday against the U.S. recognition of Jerusalem as Israel's capital.
Since Friday, four Palestinians were martyred and hundreds injured in clashes as well as Israeli airstrikes in the Gaza Strip and West Bank since Friday.
According to a statement from the Israeli Army, 20 points across the West Bank and Gaza staged clashes.
Nearly 600 Palestinians threw stones at Israeli soldiers and set fire to tires in the West Bank, explained the statement, adding that some 450 Palestinian protesters took to the streets in Gaza.
According to the Israeli police, at least six Palestinians were arrested while two police officers were slightly injured during the clashes in the occupied East Jerusalem.
Meanwhile, Palestinian committees in the West Bank's refugee camps on Saturday refused to meet any U.S. members of the UN Relief and Works Agency in a protest against Trump's decision to recognize Jerusalem as Israel's capital.
"We have informed UN officials holding the U.S. citizenship in West Bank and Jerusalem that they are no more welcome in the Palestinian refugee camps," Mahmoud Mubarak, Head of West Bank's Executive Office, told Anadolu Agency.
"This is the least we can do for the city of Jerusalem," he said.
Jerusalem remains at the heart of the Israel-Palestine conflict, with Palestinians hoping that East Jerusalem -- occupied by Israel in 1967 -- might eventually serve as the capital of a future Palestinian state.