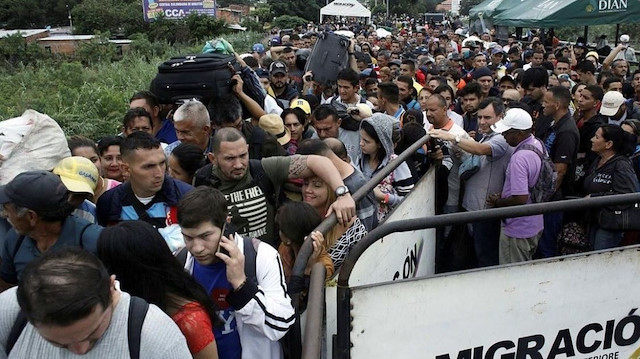 More than 200,000 Venezuelan citizens have crossed the seven border crossing points between Colombia and Venezuela during the last 72 hours, according to Colombian migration authorities on Friday.
Some citizens who traveled to Venezuela to spend the New Year's Eve are returning to Colombia, as stated by Andres Martínez, acting director of Colombia's customs and migration agency.
Others are seeking food, medicine, and essential products that are not found in Venezuela due to the severe economic and social collapse.

"During the last weeks of 2019, thousands of Venezuelans left the Colombian territory with the purpose of giving their families a different New Year's Eve celebration than the one they have experienced in the last few years due to Maduro's dictatorship," Martinez said in a press release.

The International Organization for Migration and the UN Refugee Agency reported that more than 4 million Venezuelans migrated to other countries, most of them settling in Latin America and the Caribbean.
As well, according to Colombian authorities, more than 1.63 million Venezuelans are living in the country. Still, only 720,000 are allowed to remain legally.

"Venezuela has been living on remittances for years. Nicolás Maduro has applied an expulsive policy towards Venezuelan citizens who have had to leave their country out of necessity and have dedicated themselves to supporting those who do not leave for fear of losing everything," stated Martinez.

Meanwhile, Juan Guaido, leader of the Venezuelan opposition, has lost ground in his struggle for power with Nicolas Maduro, which means the flow of migrants will not stop in the days to come.
Guaido, who declared himself interim president early last year and is recognized as the country's legitimate leader by the U.S., most Latin American countries and the European Union, has been engaged in a year-long power battle with Venezuela's elected president Nicolas Maduro.