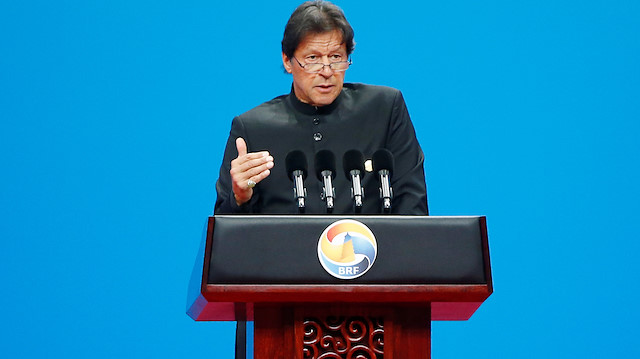 Pakistan's government Tuesday unveiled its first fiscal budget for the 2019-2020 period, with a focus on tax revenue for economic stabilization.
State Minister for Revenue Hammaz Azhar announced the budget of Rs 7,022 billion (some $46.64 billion) in the national assembly.
The government of Prime Minister Imran Khan targeted Rs 5,555 billion tax revenue (some $36 billion) to stabilize the wavering economy.
Khan took over the office in August last year after winning the general election in the country.
Some Rs 1,863 billions (nearly $12.4 billion) was allocated for development projects in Pakistan.
The government didn't announce any increase in the defense budget and fixed Rs 1,152 billions (some $7.6 billion) for the country's defense and service expenditure.
"We have cut the budget of the civil departments and ministries by 5% while the military budget was kept steady," Azhar told the parliament.
On Thursday, Khan announced that military agreed to cut on their expenditure and his government wouldn't announce any increase in the upcoming budget.
"I appreciate Pak Mil's [Pakistan Military] unprecedented voluntary initiative of stringent cuts in their defense expenditure for next FY bec of our critical financial situation, despite multiple security challenges. My govt will spend this money saved on dev of merged tribal areas Balochistan" Khan tweeted.
Khan's government also announced Rs 152 billion (some $1.01 billion) funds for development of tribal districts of Khyber Pakhtunkhwa where the infrastructure was badly affected during the militancy and war against terror.
Some Rs 1,863 billion (some $12.4 billion) was allocated for public sector development programs for mega projects in the country.
"We have proposed 10% increase in salaries for government employees from grade 1 to 16 while there would be no increase in the salaries of high level officers of grade 21 and 22" Azhar elaborated.
The inflation target for next fiscal year was also set between 5-7%.
Azhar said that all Federal Minister agreed for a 10% cut in their salaries.
"We will form a new ministry to eliminate poverty in the country which will introduce programs for social safety" Azhar said in his budget speech.
He said the budget proposal focused on economic stability and to increase the revenue generation.
Meanwhile, opposition parties staged a strong protest in the parliament during the budget session and accused government to present a International Monetary Fund (IMF) dictated budget.
Opposition lawmakers, who were raising placard with anti-government slogans, gathered in front of speaker stand and exchanged slogans during the speech of Azhar.
"Today PM of Pakistan danced on the floor of the house as his minister introduced a PTIMF budget that increases taxes, inflationunemployment. History will record how Imran danced as our economy burns," Bilawal Bhutto, the chairman of the center-left Pakistan Peoples Party, tweeted.
Last month, Pakistan sealed a $6 billion bailout package with the (IMF) to prop up the country's slowing economy.
The total foreign debt of the country is $97 billion, while its trade deficit is $32 billion.