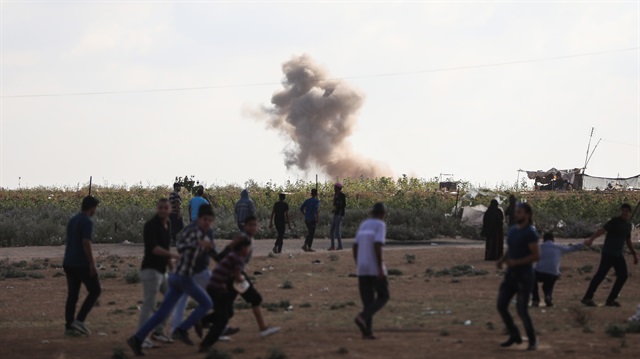 "Great March of Return" demonstrations in Gaza
The Palestinian Presidency on Friday sounded the alarm over Israel's current military escalation in Gaza.
The Palestinian Presidency called for the international community to intervene immediately to prevent the deterioration of the situation in the Gaza Strip, according to a statement carried by Palestine's official WAFA news agency.
The statement said Palestinian President Mahmoud Abbas has approached a number of regional and international parties in an effort to contain the current escalation.
Nickolay Mladenov, the UN envoy for the Middle East peace process, also called for an immediate end to the escalation in the Gaza Strip.
"Everyone in Gaza needs to step back from the brink. Not next week. Not tomorrow. Right NOW!" he tweeted.
"Those who want to provoke Palestinians and Israelis into another war must not succeed," he added.
Earlier today, three Palestinians were martyred when Israeli tanks and aircraft targeted sites belonging to Ezzedine al-Qassam, the armed wing of the Hamas movement.
Another Palestinian was martyred during the return marches on Gaza borders.
These losses were followed by a major Israeli assault on Gaza, reportedly with tanks, warplanes, and artillery fire.
5 years ago