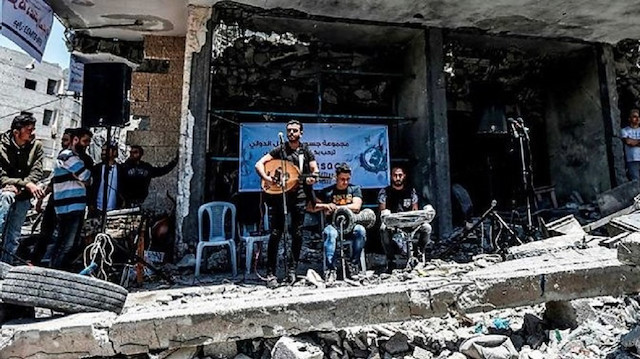 Palestinians in the blockaded Gaza Strip sang traditional folk songs on Tuesday above the rubble of a residential building destroyed last week by Israeli warplanes.
The impromptu concert was timed to coincide with the Eurovision Song Competition, which kicked off Sunday in the Israeli city of Tel Aviv.
Palestinian singers performed a series of musical numbers, in which they sang about love and world peace.
The event, which was organized by the Jusoor Group for International Communication, a local NGO, was attended by dozens of local singers, artists and everyday Palestinians.
"We timed the concert to coincide with the Eurovision contest in Tel Aviv as a means of voicing our rejection of the decision to hold the event in Israel, which continues to commit crimes against the Palestinian people," Jusoor Group coordinator Kamel Musallam said.
"Music is a language of peace and love," he added. "But by holding the contest in Israel, it is being used to mask the crimes of Israel's ongoing occupation."
The Eurovision song contest is an international music competition organized by the European Broadcasting Union since 1956.
It is the world's largest non-sporting event in terms of international viewership, typically drawing hundreds of millions of viewers from across the globe.