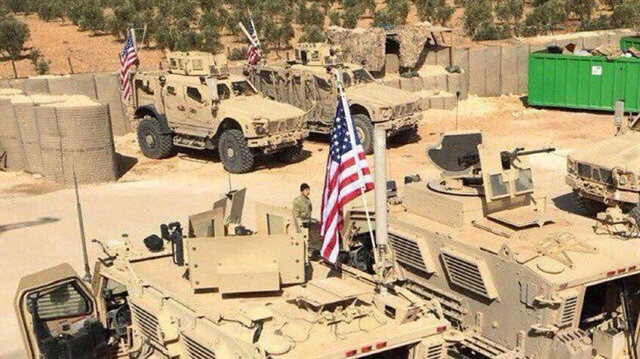 The Pentagon has sent military reinforcements to Aleppo's PKK-occupied district of Manbij, which includes armored units and soldiers.
This follows Pentagon's Feb. 11 shipment of 50 trucks containing arms, ammunition and armored personnel carriers to terrorists of the Kurdistan Workers' Party (PKK)'s Syrian offshoot, the PYD in Syria which were sent through the Hasakah-Semalka border gate located between the Kurdistan Regional Government (KRG) and Syria.
PKK terrorists in Iraq also use this border gate to send terrorists and logistic support to their PYD affiliate in Syria's northwestern Afrin.
Armored vehicles and pickup trucks that carry medium and long range automatic weapons have been spotted in the region which stands as a junction for the Turkish Armed Forces (TAF) and the Free Syrian Army (FSA).
Turkey launched Operation Olive Branch on Jan. 20 in Afrin to establish security and stability, eliminate terrorists of PKK/KCK/PYD-YPG and Daesh, and save locals from the terrorists' oppression and cruelty.
Turkish President Recep Tayyip Erdoğan stated that after the purging Afrin of terror elements, Turkey would do the same in Manbij.
The U.S has supplied the PYD terror organization with more than 5,000 truckloads of weapons to allegedly use in the fight against Daesh, despite Ankara's warnings that the group is the Syrian offshoot of the PKK terror organization.
The PKK is listed as a terrorist organization by Turkey, the European Union and the United States. The PKK has been conducting armed violence in the southeastern part of Turkey since 1984. More than 40,000 people, mostly civilians, have been killed in the three-decade long conflict.