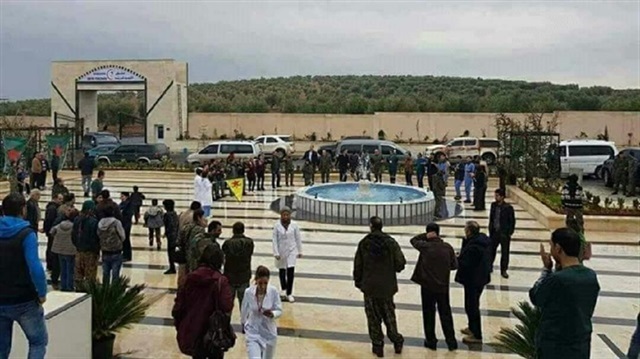 As Turkey's Afrin operation looms closer with every passing day, terrorists from the Kurdistan Workers' Party (PKK) in northern Syrian city continue to ramp up their positions, opening a hospital that will provide services to wounded terrorists from the border fronts, in case of any possible attack by the Turkish Armed Forces (TAF).
The 70-bed capacity hospital, which will not be providing treatment to civilians, was inaugurated with a ceremony attended by senior PKK terrorists.
Medical equipment supplied by the US and EU
The hospital was set up with state-of-the-art medical equipment supplied by Western organizations on behalf of the U.S. and Europe, including Italy and Germany, and were flown in from Erbil in northern Iraq.
Afrin, which has been under PKK occupation for five years, has received agricultural, democracy awareness, education and medical support since 2011 from Western organizations, which mobilized their efforts to open a hospital in the PKK-occupied city.
The effort was spearheaded by the "Syrian American Medical Society" organization which sponsored the project.
Financial aid for sham projects!
The process of funding, building and equipping the hospital was sponsored by the U.S.-based "Syrian American Medical Society" organization.
To funnel financial and material supplies to terror organizations, over 200 foundations based in Turkey, Jordan and Erbil sponsor sham projects under the guise of humanitarian aid.
PKK parade in Afrin
Mahmoud Berhidan, the PKK's Syrian offshoot's so-called Afrin Commander, attended the hospital's inauguration event where he gave a speech in which he issued threats against Turkey and renewed calls for a mobilization of PKK terrorists in Afrin.
The PYD is the Syrian branch of the PKK, which has waged war against Turkey for more than 30 years.
Since the PKK launched its terror campaign in Turkey in 1984, tens of thousands of people have been killed, including more than 1,200 since July 2015 alone