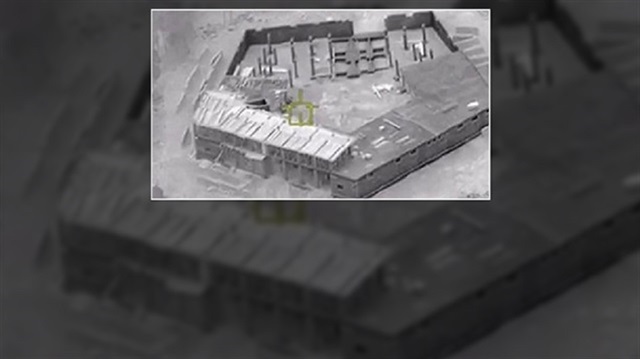 The Kurdistan Workers' Party (PKK)'s Syrian branch, the Democratic Union Party (PYD) is constructing a terror base shaped similarly to the Pentagon in Syria's Afrin where Turkey is currently carrying out Operation Olive Branch. The Pentagon is the headquarters of the United States Department of Defense.
The U.S. has troops stationed across eight military points, and also has multiple bases in the region. The United States has set up around 20 military bases in Syria on territory controlled by the PYD/YPG, Alexander Venediktov, an aide to Russian Security Council Secretary Nikolai Patrushev, said in early March.
Operation Olive Branch was initiated on Jan. 20 in Afrin to establish security and stability, eliminate PKK/KCK/PYD-YPG and Daesh terrorists, and save locals from their oppression and cruelty.
Pentagon seeks to invest $550M in PYD/PKK
The Pentagon requested $300 million to train and equip the PYD/PKK terror group that goes by the name of the Syrian Democratic Forces (SDF) in February, and sought nearly as much to build the terror group-led "border security force" in Syria.
The U.S. has supported the PKK/PYD under the name of the SDF that is considered by Ankara to be the Syrian offshoot of the PKK terror group that has waged a more than 30-year brutal war against the Turkish state.
American support for the terror group has long vexed Ankara as Washington views the SDF as a "reliable partner" in its fight against Daesh and continues to provide it with arms and equipment in the face of strong objections by Turkey.