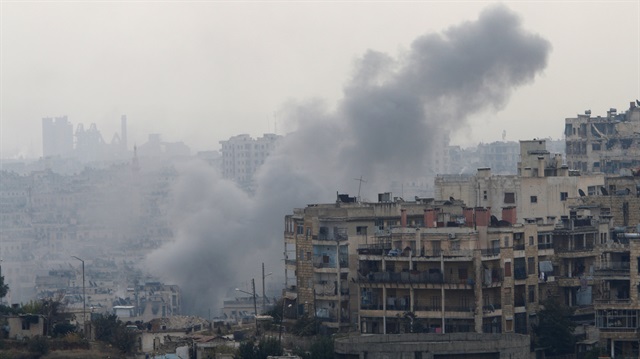 The terrorist group PKK/PYD and the Bashar al-Assad regime have made common cause in Syria's northern city of Aleppo --a move whose signs can be seen on the streets.
Based on information obtained by Anadolu Agency on Wednesday, PKK/PYD -- the Syrian offshoot of the PKK -- and the Assad regime agreed to hang their respective banners side-by-side in some Aleppo neighborhoods including Sheikh Maqsoud, Hellok, al-Sheikh Khidr, Ayn at-Tal and Ashrafiya.
Under an agreement mediated by Russia, both sides will take common security measures in Sheikh Maqsoud and Ashrafiya.
The sides also agreed on the return of people who fled from the neighborhoods in question. The Assad regime is also to provide oil to areas held by the group not linked to other regions.
The terrorist group's banners could be spotted in central Aleppo, some local sources told Anadolu Agency.
There has been no official statement by Russia on the agreement.
The PKK/PYD controls eastern the districts of Al-Hasakah, northern Raqqah, Manbij, eastern Aleppo, Afrin, and Tal Rifaat.
The PYD and its military wing YPG are Syrian offshoots of the PKK terrorist network which has taken some 40,000 lives in Turkey over the last 30 years.
The U.S. recognizes the PKK as a terrorist group, but has treated the PYD/YPG as an ally in its anti-Daesh efforts.
Syria has only just begun to emerge from a destructive civil war that began in 2011, when the Assad regime cracked down on pro-democracy protests with unexpected ferocity.
Since then, hundreds of thousands of people have been killed in the fighting and more than 10 million displaced, according to claims by UN officials.
6 yıl önce