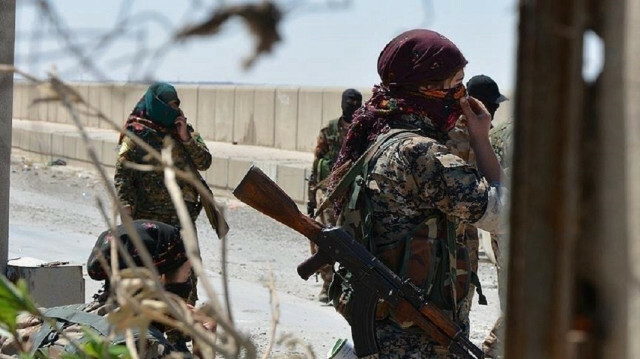 The PKK/YPG terrorist organization abducted a 15-year-old patient with hydrocephalus, a condition caused by fluid buildup in the brain, in northwestern Syria for forced recruitment, a local Kurdish opposition group said on Tuesday.
Redor al-Ahmed, the spokesperson of the Independent Kurdish Neighborhood, told Anadolu Agency that PKK/YPG terrorists kidnapped the teenager whose initials are T.H. in the Manbij district of Aleppo province.
The PKK/YPG often takes young people and children it abducts or detains to training camps, where they are cut off from their families.
In the 2021 Children and Armed Conflicts report published this July, the UN General Secretariat said the terrorist group PKK/YPG added 221 children to its fighters in 2021.
It also said the terrorist "Internal Security Forces," affiliated with the PKK/YPG, recruited 24 children the same year.
The PKK/YPG killed 55 children in Syria in 2021, while the "Afrin Liberation Forces" and "Internal Public Order Forces" affiliated to the terror group killed 18 children.
In its more than 35-year terror campaign against Türkiye, the PKK -- listed as a terrorist organization by Türkiye, the US, and EU -- has been responsible for the deaths of more than 40,000 people, including women, children, and infants.
3 months ago