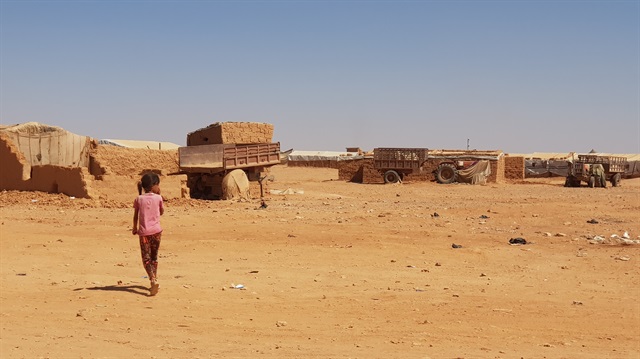 Thousands of Syrians stranded on Jordan's border with Syria are running out of food as routes leading to their camp are closed by the Syrian army and Jordan is blocking aid deliveries, relief workers and refugees said on Thursday.
The Syrian army has tightened its siege of the camp, in Rukban, near the northeastern Jordanian border with Syria and Iraq, preventing smugglers and traders from delivering food to its 50,000 inhabitants, mostly women and children.
"More than a week ago the Syrian regime cut all the routes of supplies towards the camp. There are now only very small amounts of food that smugglers bring," Abu Abdullah, the head of the civil affairs council that runs the camp said.
"The camp is a balloon that could explode at any moment because of hunger, sickness and lack of aid ... if the situation continues like this there will be real starvation," he added by phone.
Rukban is located near a U.S. garrison in southeastern Syria at Tanf on the Iraqi-Syrian border.
Jordan has since the start of the year blocked any aid deliveries to the camp over its frontier and says now that the Syrian government had recovered territory around the camp, it could not be made responsible for delivering aid.
Lives at Risk
With Damascus intransigent, U.N. aid agencies have been pressing Jordan to let in urgent deliveries to stave off more deaths, aid workers and diplomatic sources said.
The U.N. children's agency UNICEF warned on Thursday that without "critical action" by parties to the conflict to "allow and facilitate access" the lives of thousands of children in the camp were at risk.
"The situation for the estimated 45,000 people - among them many children - will further worsen with the cold winter months fast approaching, especially when temperatures dip below freezing point in the harsh desert conditions," Geert Cappelaere, UNICEF regional director for Middle East and North Africa, said in a statement.
Already two more infants died in the last 48 hours, Cappelaere added. Relief workers inside the camp say a woman also died this week.
Jordan wants the United Nations and Russia to put pressure on Damascus to give the written authorizations needed to allow supplies into Rukban from Syrian government-held territory.
Jordanian Foreign Minister Ayman Safadi said recently that his country, already burdened with hundreds of thousands of refugees fleeing war-torn Syria, could not be made responsible for delivering aid to the camp.