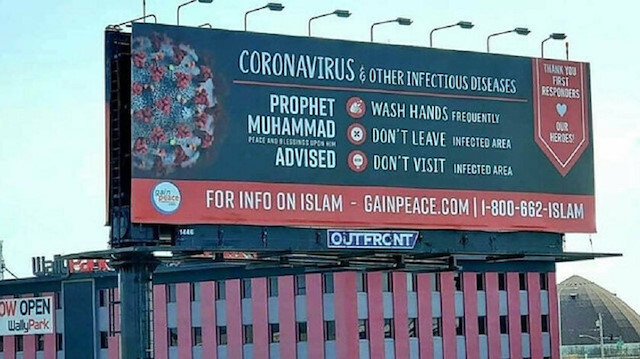 The advice of Muslim Prophet Muhammad on hygiene and plagues now adorns billboards in the United States to guide people as Washington grapples with the novel coronavirus crisis.
The billboard was commissioned by a non-profit group called Gain Peace with the aim "to educate the general public about Islam," The New Arab reports.
"Wash your hands frequently, don't leave infected areas and don't visit infected areas," reads Muhammad's message on a billboard erected on the Chicago highway.
It refers to a "hadith," the teachings of Prophet Muhammad, which has been repeatedly shared by users on social media since the epidemic started to spread around the world.
A Billboard on a Chicago high way, USA. May Allah's blessings be upon our noble Prophet Muhammad (SAW). pic.twitter.com/TzaCG9SwwE

— Sadiya Alhassan (@SadiyaAlhassan2) April 19, 2020
"When you hear that a plague is in a land, do not enter it and if the plague breaks out in a place while you are in it, do not leave that place," the hadith in question says.
His guidelines are now being applied by world health organizations in order to curb the epidemic.
Prophet Muhammad also urges people in another hadith to avoid placing a sick patient with a healthy person.
The U.S. leads the world in the number of coronavirus infections and deaths with 784,326 cases, 41,872 fatalities and more than 72,000 recoveries.
Since the virus emerged last December in the Chinese city of Wuhan, it has spread to at least 185 countries and regions. There are more than 2.4 million confirmed infections globally and nearly 170,000 deaths.