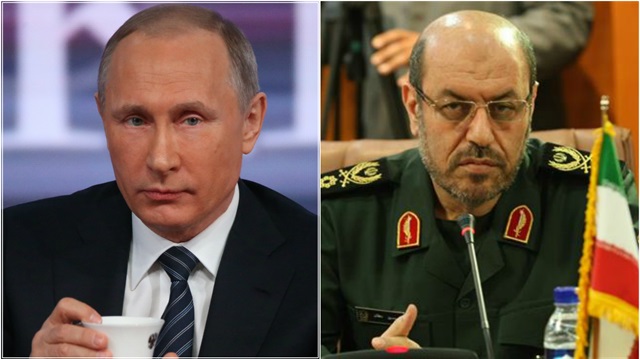 Amid ongoing Turkish artillery fire on Russian-backed Democratic Union Party (PYD) terrorists in the northern Syrian town of Azaz, Russian President Vladimir Putin met with Iranian Defense Minister Hosein Dehqan in Moscow on Tuesday to discuss the latest developments in Syria.
The Russian news agency TASS confirmed the meeting, citing presidential press secretary Dmitry Peskov.
"Yes, such a meeting did take place," Peskov is quoted by TASS as saying.
Dehqan is paying a working visit to Moscow, where he is scheduled to meet with his Russian counterpart, Sergey Shoigu, and other Russian officials.
However, he was not scheduled to meet with the Russian President, and the meeting was not previously announced.
It is thought his unannounced meeting with Putin was held due to recent Turkish artillery fire on PYD terrorists in Azaz, a Syrian city on the border with Turkey.
PYD, backed by Russia and Syrian President Bashar al-Assad, is accused of conducting ethnic cleansing against Arabs, Turkmens and even Kurds in the area. The group is a Syrian branch of the outlawed Kurdistan Workers' Party (PKK), which has been conducting armed violence in southeastern Turkey for more than three decades and killed over 40,000 civilians.
Turkey has accused PYD of supplying arms to the PKK from Syria into Turkey and has vowed to push the terrorist group back from the border line.