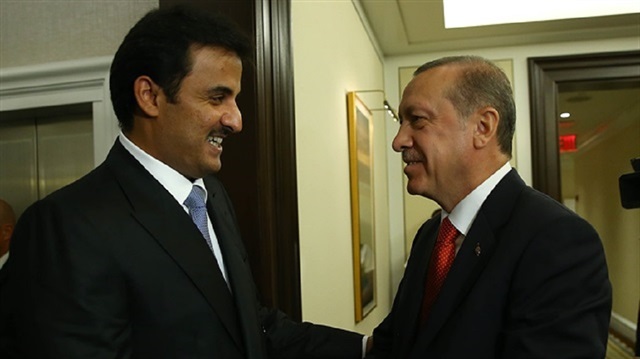 Turkish Foreign Minister Mevlüt Çavuşoğlu announced on Wednesday that Qatar's Emir Tamim bin Hamad Al Thani would make a surprise visit to Turkey. Al Thani is due to arrive on Friday.
"We met yesterday with the Foreign Ministers of Pakistan and Qatar. Tomorrow, the minister of France and Kuwait will come to Turkey. Qatar's Emir will visit on Friday," Çavuşoğlu said.
President Recep Tayyip Erdoğan traveled to Doha, Qatar's capital, on Jul. 24, following his exchanges in Kuwait. Qatar Emir Al Thani greeted Erdoğan at the airport.
President Recep Tayyip Erdoğan received Qatar's Foreign Minister Sheikh Mohammed bin Abdurrahman al-Thani at the Presidential Complex in Ankara on Tuesday.
Qatar, embargoed by Saudi Arabia, the United Arab Emirates (UAE), Bahrain and Egypt since Apr. 7, is engaging in high diplomacy traffic to resolve the crisis. These countries have accused Qatar of supporting terrorism, charges which Doha has denied. Turkey has supported Qatar on the issue since the crisis began.