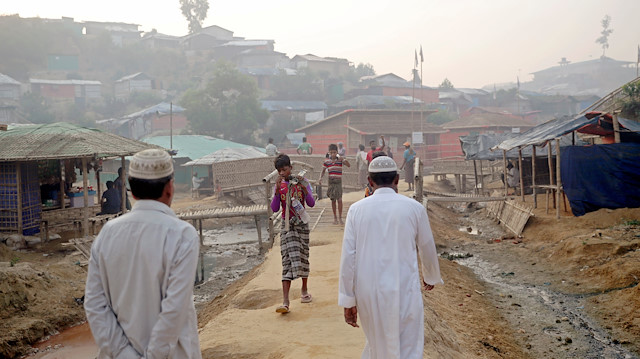 Global rights watchdog Amnesty International said the Rakhine state of Myanmar is not safe for Rohingya refugees to return to.
Addressing the ongoing 41st session of UN Human Rights Council (UNHRC), Amnesty said that Rohingya population -- who are mostly Muslims -- continue to face systematic denial of their rights, including to equality, to a nationality, to freedom of movement, and access to adequate healthcare, education, and work opportunities.
"Their rights to participate in public life and to manifest religious beliefs continue to be routinely violated in what amounts to a system of apartheid," Amnesty told the UNHRC session in Geneva, Switzerland late on Wednesday.
The Myanmar authorities have shut down internet access in the conflict-ridden areas of Rakhine and Chin states since June 21.
The rights watchdog said the situation raised "urgent concerns" about the safety of civilians while the conflict continues.
"Rakhine State is not safe for the communities still living there, it is most certainly not safe for refugees to return to," Amnesty International warned.
Access to aid, media restricted
The group expressed terror that some 128,000 people -- mostly Rohingya -- have been confined in detention camps in Rakhine and "reliant on humanitarian assistance for their survival".
It asserted that Myanmar is severely restricting humanitarian access and access to independent journalists and human rights monitors.
"Rohingya and other Muslim communities are systematically discriminated against and do not have freedom of movement."
It accused the administration of Buddhist-majority Myanmar for not engaging in "genuine efforts to implement recommendations" of the Advisory Commission on Rakhine State, led by the late UN Secretary General Kofi Annan.
"The authorities claim to be implementing 81 of the report's 88 recommendations, however the reality on the ground is very different," it added.
The rights group also said that the government of Aung San Suu Kyi in Myanmar has made no progress in restoring the Rohingya's citizenship rights or reviewed the deeply discriminatory 1982 Citizenship Law.
Escalation in fighting
Amnesty International also said 2019 witnessed major escalation in fighting between the Myanmar military and the Arakan Army -- an ethnic Rakhine armed group based in the Rakhine state.
"[We] documented serious violations -- including war crimes -- by the military against civilians from all communities, including the Rohingya," Amnesty added.
"These new violations highlight the institutionalized and systematic nature of military violations in Myanmar, as well as the consequences of ongoing impunity," the rights group said.
It added that some of the recent violations have been committed by soldiers from the same units who were implicated in atrocities against the Rohingya population in late 2017.
Persecuted people
The Rohingya, described by the UN as the world's most persecuted people, have faced heightened fears of attack since dozens were killed in communal violence in 2012.
According to Amnesty International, more than 750,000 Rohingya refugees, mostly women and children, have fled Myanmar and crossed to Bangladesh after Myanmar forces launched a crackdown on the minority Muslim community in August 2017, extending the figure of the persecuted people here more than 1.1 million.
Since Aug. 25, 2017, nearly 24,000 Rohingya Muslims have been killed by Myanmar's state forces, according to a report by the Ontario International Development Agency (OIDA).
More than 34,000 Rohingya were also thrown into fires, while over 114,000 others were beaten, said the report, titled "Forced Migration of Rohingya: The Untold Experience".
Some 18,000 Rohingya women and girls were raped by Myanmar's army and police and over 115,000 Rohingya homes were burned down and 113,000 others vandalized, it added.