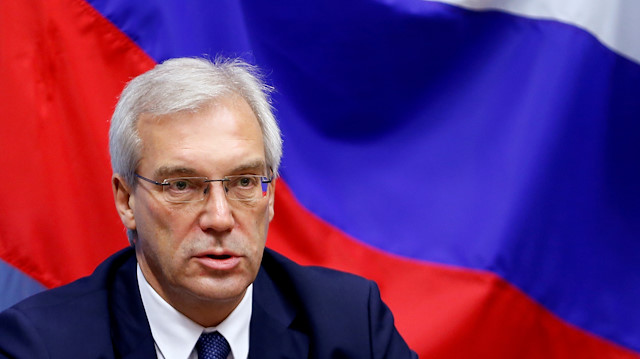 Relations of Russia and Turkey are "based on solid ground" and have "positive interdependence," Russia's deputy foreign minister said on Thursday.
The two countries are working together on long-term projects, including the construction of the Akkuyu nuclear power plant and the TurkStream gas pipeline, Alexander Grushko said in an interview with Russia's Interfax news agency.
"If you look at the content of bilateral relations, including the economy, energy, and humanitarian ties, it is hard not to see that they are based on a solid ground," he asserted.
"There are clearly elements of positive interdependence here. Projects such as the TurkStream and Akkuyu nuclear power plant have an impact on the very nature of relations."
Thanks to the efforts of the Russian and Turkish presidents, the two countries have made "great progress in building a strategic partnership," the diplomat added.
On Syria, Grushko said that despite different assessments of the situation, Moscow and Ankara are united in their belief that Syria should be "a united, indivisible state within its current borders, and that Syrians themselves should determine their fate."
"Yes, we recognize that Russia and Turkey may have different interests, including in the Middle East. But do not forget that it was Russia and Turkey, with the participation of Iran, that managed to create the Astana format, which today formulates the basic principles of the Syrian settlement," he said.
Syria has been locked in a vicious civil war since early 2011, when the Bashar al-Assad regime cracked down on pro-democracy protests with unexpected ferocity.
Since then, hundreds of thousands of people have been killed and more than 10 million others displaced, according to UN officials.