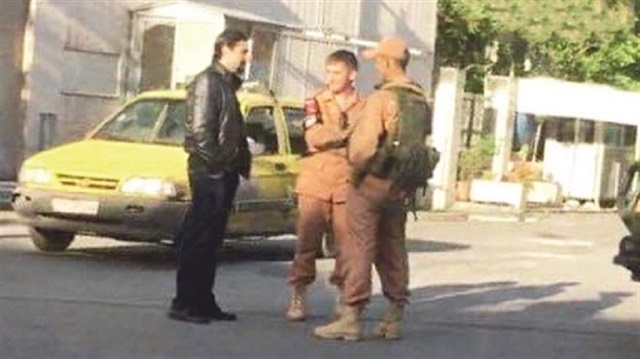 Differences between Iran and Russia, which have provided critical support to Syrian President Bashar al-Assad's war efforts, have become more apparent as of late. Critical points in Damascus previously controlled by Iran have now been taken over by Russia, and could lead to divisions among the Syrian forces and intelligence.
The Damascus Governorate, Baath Party General Headquarters, stock exchange and central bank located in the Seba Bahrat region which were previously guarded by Iran-backed Shiite militia and Assad's Republic Guard are now protected by Russian forces.
In the Kefer Suse region, where the prime ministry and other ministry buildings are located, Russian troops are providing security. It is reported that Russian security units have also been placed in the prisons of Adra and Sednaya, the two largest jails of Syrian political prisoners.
On Tuesday a Russian troop deployment near the Lebanese border caused friction with Iran-backed forces, in what appeared to be a rare case of Russia acting out of sync with Assad's Iran-backed allies.
Pressure for Iran to withdraw
Recent Russian calls for all non-Syrian forces to leave southern Syria have been seen as aimed partly at Iran, in addition to U.S. forces based in the Tanf area at the Syrian-Iraqi border.
Syrian opposition member Yusuf Hamed, who evaluated recent developments in an interview with Yeni Şafak, said that Russia had increased its activities in Damascus and along the borders in the last 20 days.
Russia is pressuring Iran-backed militias to withdraw from areas like Qusayr, Zabadani, Quneitra, Sayyida Zaynab and Darayya, said Hamed.
He also stated that there were efforts to nullify Iranian influence, particularly along the border, and troops were being deployed under Russian supervision in these regions.
Syrian forces may be divided
Abu Ahmad, who served in a senior intelligence position in the Syrian intelligence but defected and joined the opposition in 2013, told Yeni Şafak that differences between Iran and Russia may lead to division among Syrian forces and intelligence.
Ahmad added that there was a strong Iranian influence in Syrian intelligence and that intelligence chief Ali Memluk and Gen. Suheyl Hasan would be decisive figures during this period.
Russia is trying to remain on the Turkey axis, while Iran's Qasem Soleimani and some figures close to Assad have different aims, Ahmad said. Suleimani heads the Iranian Revolutionary Guards Quds Force, and is one of the most prominent and influential military figures.
Cracks growing
The Russian airstrikes targeting the village of Zardana in Syria's northwestern city of Idlib on Friday, which killed 42 with another 80 injured, is being interpreted as a message to Syria and Iran claiming that Russia will do what it sees fit.
Ahmad said that the Soleimani front will also continue to engage in various confrontational acts.
Suspicious deaths
Syrian opposition member Hamed added that four senior soldiers, including 11th Division Commander Ali Mohamad Al Hussein, died under suspicious circumstances in the last 20 days. He added that Halil Necat, an Iranian officer deployed in Syria as a military consultant, had also died under suspicious circumstances in the same period.
Hamed also stated that tensions between Iran and Russia on the field would be reflected within the army.
Syria has been locked in a vicious civil war since early 2011 when the Assad regime cracked down on pro-democracy protests with unexpected ferocity.