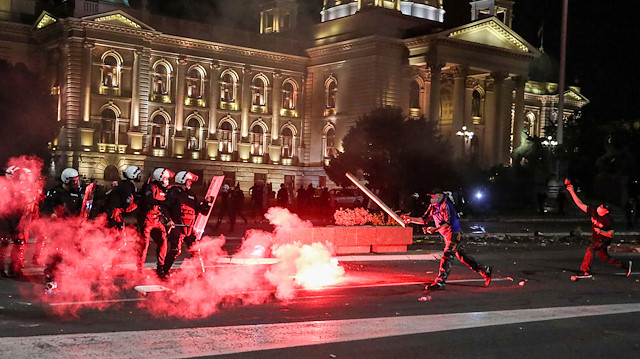 At least 23 demonstrators have been detained in the Serbian capital of Belgrade, after a crowd, attempted to enter the National Assembly building late Tuesday evening.
The crowd was peeved at the announcement made by President Aleksandar Vucic to enforce a weekend curfew to combat the COVID-19 pandemic.
In pitched battles, 43 police personnel were also injured.
Serbian Police Chief Vladimir Rebic on Wednesday said that the police officials were injured because the hard objects were thrown at them.
Rebic said that five police vehicles were torched, forcing the police to fire tear gas shells to disperse demonstrators.
He added that seven demonstrators were also injured.
The police chief said that they were in the process of identifying people who were making a scene during the protests by accessing close circuit cameras.
Meanwhile, Interior Minister Nebojsa Stefanovic described the events as "unacceptable".
"Everyone has the right to protest, but nobody has the right to throw stones at the police," said Stefanovic.
The clashes erupted near the National Assembly building, which was cordoned off by the police.
The protesters included some far-right opposition leaders.