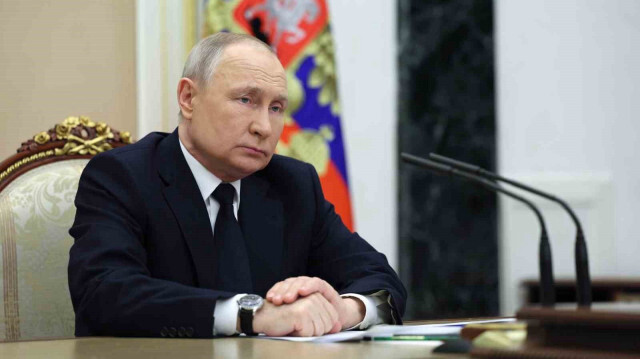 Russian President Vladimir Putin
Russian President Vladimir Putin said cooperation between Russia and China does not pose a threat to the West.
"We are not creating any military alliance with China. Yes, we also have cooperation in the field of military-technical collaboration, we do not hide it. But it is transparent. There is nothing secret," Putin said during an interview with Russian television channel Rossiya-24 aired late Saturday.
Putin underlined that although Russia is developing military cooperation with China, this does not correspond to a "military alliance."
"This is absolutely not true," he said in response to a question on whether cooperation between Russia and China poses a threat to the West, noting that Moscow values its relations with Beijing.
Putin also noted that he disagreed with the opinion that Russia could be influenced by Beijing in the future, saying Europe's economy is much more dependent on China.
"These are not skeptics, but envious people. Why? Because the dependence of, let us say, the European economy on China -- it is increasing at a much higher pace than the Russian one, much higher," he said.
- 'Global NATO concept reminiscent of Axis alliance during WWII'
Putin also commented on the idea of a "global NATO" through the development of relations with countries of the Asia-Pacific region, saying these efforts are reminiscent of the Axis alliance of the Second World War.
"What is the United States doing? They are creating more and more new alliances. And this gives Western analysts, Western political scientists reason to say that the West is building new 'axes'," Putin said.
He claimed that Western analysts themselves are saying the West is starting to build a new axis "similar to the one that was created back in the 1930s by the fascist regimes in Germany and Italy and militaristic Japan."
He further said that NATO's strategy lists specific countries in the region, namely Australia, New Zealand and South Korea, noting that Japan signed an agreement with the UK in January on "establishing contacts and developing relations in the military sphere."
Meanwhile, on the supply of Western weapons to Ukraine, he said this is conducted covertly and that the Russian military is trying to destroy supplies during their delivery.
"Our military manages to do something, but not all. They are transported secretly, at night. But what they manage to get, they get it. But there is such a goal, of course," he noted.
2 ay önce