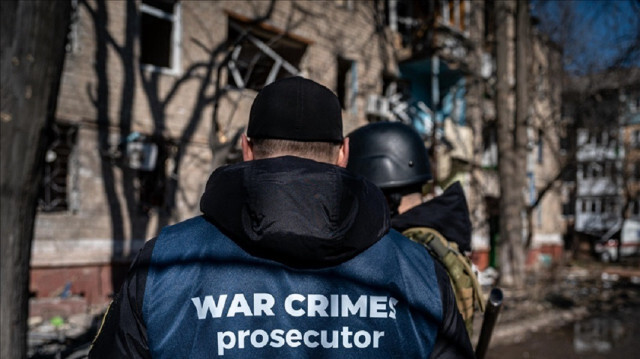 Russia committed a wide range of violations in Ukraine, and many of them amount to war crimes, the UN Commission of Inquiry on Ukraine said Thursday.
"Russian authorities have committed a wide range of violations of international human rights law and international humanitarian law in various regions of Ukraine, many of which amount to war crimes," the independent international commission said in its latest report.
"War crimes, indiscriminate attacks on infrastructure, systematic and widespread torture show disregard for civilians," it said, adding those war crimes include attacks on civilians and energy-related infrastructure, willful killings, unlawful confinement, torture, rape and other sexual violence, as well as unlawful transfers and deportations of children.
According to the report, the evidence shows that Russian authorities killed civilians or people not engaged in combat intentionally in areas that fell under their control, which constitutes war crimes and a violation of a person's right to life.
Regarding Russian attacks with explosive weapons, it said the attacks have been carried out "in populated areas with an apparent disregard for civilian harm and suffering, failing to take the required precautions."
"The attacks were indiscriminate and disproportionate, in violation of international humanitarian law," the report said.
The waves of attacks by Russian armed forces on Ukraine's energy-related infrastructure starting on Oct. 10 may constitute crimes against humanity, the commission said in the report, as millions of people and entire regions were left without heat or electricity for extended periods of time.
It also documented a pattern of widespread illegal detention of men, women and children in regions under the authority of the Russian Armed Forces. Russian officials routinely used torture against particular groups of people while imprisoning them in special facilities throughout Ukraine and the Russian Federation, it said.
"A former detainee underwent beatings as a 'punishment for speaking Ukrainian' and for 'not remembering the lyrics of the anthem of the Russian Federation,'" the report said, giving an example, and noted that this pattern of torture may amount to crimes against humanity and should be investigated further.
Numerous instances of rape and sexual and gender-based violence were committed by Russian authorities as they undertook house-to-house visits in localities that came under their control and during unlawful confinement, the commission found.
On the transfers of children from Ukraine to the Russian Federation, the report said with concern that violations of human rights and international humanitarian law have been committed.
Situations concerning the transfer and deportation of children which it has examined amount to war crimes, and witnesses told the commission that many of the younger children transferred were not able to establish contact with their families and might lose contact with them indefinitely.
The commission also recorded two incidents that met the criteria for war crimes, in which Russian prisoners of war were shot, hurt and tortured, as well as a small number of other violations carried out by Ukrainian military forces.
The commission toured 56 locations and spoke with 348 women and 247 men for the report. Its investigators examined graves, detention facilities, torture chambers and weapon remnants in addition to conducting extensive document and report research.
16 days ago