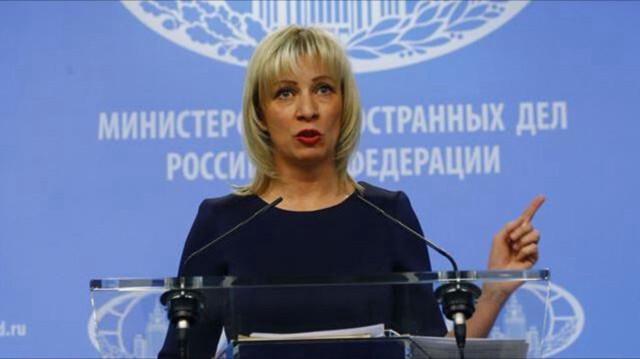 Russian Foreign Ministry spokeswoman Maria Zakharova
The Russian Foreign Ministry spokeswoman said on Wednesday that Moscow is disappointed over the UK, Germany, and France's decision to liquidate the Instrument in Support of Trade Exchanges (INSTEX), established in 2019 to facilitate trade between Europe and Iran.
On the ministry's website, Maria Zakharova said INSTEX was perceived by the international community as a manifestation of the EU ambitions "to gain genuine strategic autonomy and take an independent place in a polycentric world."
"Today, we have to state once again that united Europe has once again failed the test of political subjectivity, the ability to fight back against the illegal actions of the US, which violated its obligations under the JCPOA (Joint Comprehensive Plan of Action) and UN Security Council resolution 2231," she said.
Zakharova noted that "one can only make guesses about the real reasons that prompted the founders and shareholders of INTEX to bury their offspring," alleging that the move was taken contrary to the commercial interests.
"In fact, the Europeans have succeeded in their main skill -- to construct a bureaucratic machine, to distribute offices and positions, as well as to lay the foundations for the functioning of INSTEX. But, like many other things with them, it looked beautiful only on paper. This mechanism has not been able to become fully operational," she said.
The spokeswoman added that attempts to shift the blame on Iran look "ridiculous" and "humiliate" those in Europe who tried to do "at least anything" to oppose "the American policy of destruction."
"Those who made the decision to liquidate (INSTEX) did not have the courage to admit that the European business and banking community did not believe in the ability of Brussels and INSTEX shareholders to create a secure environment for cooperation with Tehran," she said.
Zakharova stressed that what had happened with INSTEX is a "sign of the incapability of the European countries" to fight for the JCPOA and international law in general.
The Iran nuclear deal, formally known as the JCPOA, was signed in 2015 between Iran, the permanent members of the UN Security Council -- the US, UK, Russia, France, and China -- plus Germany and the EU.
Under the deal, Iran pledged to limit nuclear research that may be used in arms production, while the Western countries obliged to lift sanctions in return.
Former US President Donald Trump unilaterally withdrew Washington from the landmark agreement in 2018 and re-imposed sanctions on Iran, prompting Tehran to retaliate by taking steps away from its nuclear-related commitments.
7 ay önce