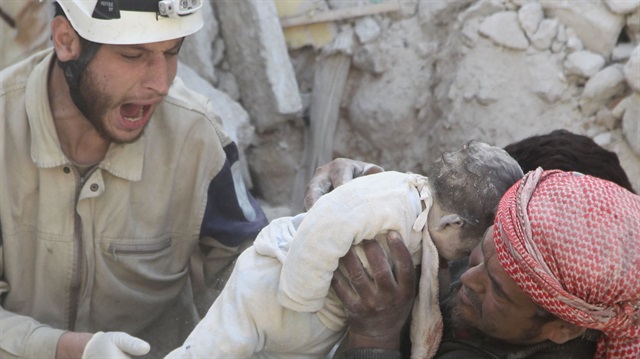 Russia has pounded northern Azaz town of Aleppo, after Turkey's bombing of Democratic Union Party (PYD) points.

The Russian airstrikes hit 10 separate points, including school and a point meters close to a hospital.

Almost 50 people killed and dozens wounded in the Russian airstrikes; 35 of the total wounded people including ten children, were taken to Kilis State Hospital in Turkey through Öncüpınar Border Gate.

The medical sources said that some of the injured are in serious condition.

Meanwhile, the local sources reported that the Daesh points in the east of the town were being pounded by jets of unclear origin.

Russia has been conducting airstrikes in Syria since September 30 with the aim of supporting the regime of Syrian President Bashar al-Assad under the pretext of fighting against Daesh.

Instead of fighting Daesh, Russian forces attack the headquarters of the moderate opposition and residential areas of Homs, Hama, Idlib and Aleppo in particular.

Russian airstrikes have hit places such as mosques, schools and pre-schools, resulting in large numbers of civilian casualties, said local activists.

The Syrian civil war has killed more than 250,000 people and displaced half of the population.

More than 11 million others were forced from their homes by the Assad regime and various terror groups.