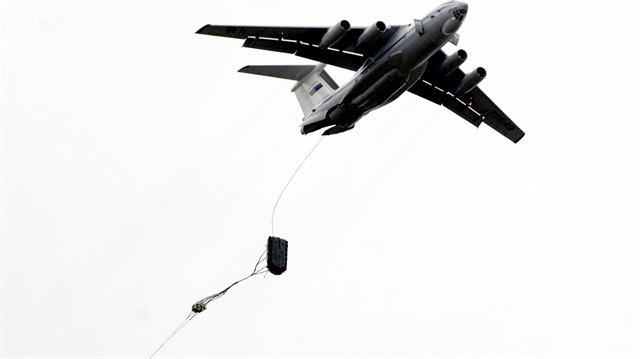 A Syrian rights group said on Wednesday that the Russian military parachuted ammunition to the outlawed Kurdistan Workers' Party (PKK) terrorist organization's Syrian affiliate, the Democratic Union Party (PYD) in north Aleppo.

The Local Coordination Committee of Syria, a human rights group, said in a statement that a Russian military cargo plane dropped five tons of ammunition early in the morning on the PYD-controlled Sheikh Masoud area in northern Aleppo.

This was the second delivery of weapons from Russian military to PYD after the downing of a Russian fighter jet by Turkish military after it violated Turkish airspace on November 24.

On Monday, a Russian military helicopter delivered heavy weapons to the group in Arfin town of Aleppo.

Turkey strongly opposed arming PYD, citing its link with the PKK, which is listed as a terrorist organization by Turkey, the EU and the US.

Outlawed PKK militants have been fighting in Turkey's southeast for 31 years in a conflict that has killed at least 40,000 people.

The Russian military, which started "anti-terror" airstrikes as well as a land offensive against "Daesh" (also known as the Islamic State in Iraq and the Levant) in Syria, has been targeting moderate opposition fighters and civilians rather than Daesh militants.

After the downing of the Russian jet, Russia started cooperating with the PYD on the battlefield, as a move against Turkey.

Earlier in October, PYD leader Salih Muslim said that Russian intervention would stop Turkey from getting involved in Syria.

Turkey wants Syrian president Bashar al-Assad removed from power, whereas Russia purports to support him in the ongoing civil war.