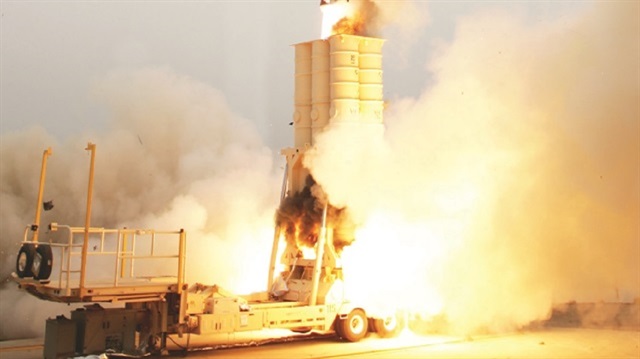 Russia is set to deploy S-400 missiles near the Syrian port city of Latakia, located just 80 kilometers from the Turkish border.

After deployment of the sophisticated S-400 missiles at Khmeimim airbase near the coastal city, Russia have prepared to take another step to establish an advanced defense system, also on Turkmen Mountain, in northern Latakia.

Turkmen sources told a Yeni Şafak reporter in the region that Moscow has taken preliminary measures to deploy the defense system in the town of Salma, a town seized by pro-government forces on January 12. The Russian military has planned to establish a special area in north of Salma to activate its air defense system, the sources said.

Intelligence officials, sent by Moscow, have installed listening stations in the towns of Gimam and 45 Hill as part of the efforts to deploy the advance defense system on the edge of Turkey's border. Earlier this week, an expert delegation flew from Moscow to Latakia to inspect works pertaining to the listening stations, where Russian agents will be on duty.

Meanwhile, Syria's largest rebel group, Free Syrian Army,(FAS), closely follow Russian's efforts to deploy the latest generation of the anti-aircraft systems on Turkmen Mountain. "Russia is eager to be a permanent force on Turkmen Mountain in order to ensure the security of its air force near Latakia," the Chief of Free Syrian Army, Ahmet Berri, told Yeni Şafak's reporter.

"That's why they began to set up listening stations in Gımam and 45 Hill, the two locations at the highest elevations of Turkmen Mountain."

The recent reports say that pro-government Syrian forces recaptured more than 25 rebel-held targets in the last two months with the help of Russian air strikes. The Syrian military, also backed by Shia militia, has gained further ground in rural parts of Latakia, the regime's stronghold. After the fall of Salma, pro-regime troops have also took control of the major rebel-held town of Rabia in recent days. The recapture of Rabia has been a great victory for Assad's troops, aligned with Iran-backed militia in its fighting against rebel forces.

The S-400 is one of Russia's most sophisticated air defense systems, with an extraordinary reach. From the Khmeimim airbase near Latakia, the surface-to-air missiles could strike targets in Syria, northern parts of Jordan and Israel, entire Lebanon and a certain portion of Turkish provinces including Adana, Mersin, Hatay, Antalya, Şanlıurfa, Mardin, Gaziantep and Konya.

Turkey says the Russian warplane was shot down for violating Turkish airspace, despite repeated warnings, while Moscow denies leaving Syrian territory.

Officials in Ankara are worried over reports that Russia will set up a military base in Haseke, a city controlled by Syrian Kurdish Democratic Union Party (PYD). Russian has also created a military base in a rural part of northern Syria. Authorities in Ankara consider Moscow's steps a retaliation which will escalate further tension in the region.

Moscow has a naval facility in Tartus which is a leased Russian Navy military installation in the port city of Tartus on the coast of Mediterranean Sea. Russia uses this military facility to deploy war ships sent to support its closest ally in the Middle East. An estimated 1,700 Russian military personnel are on duty to support Assad's regime in the ongoing conflict.