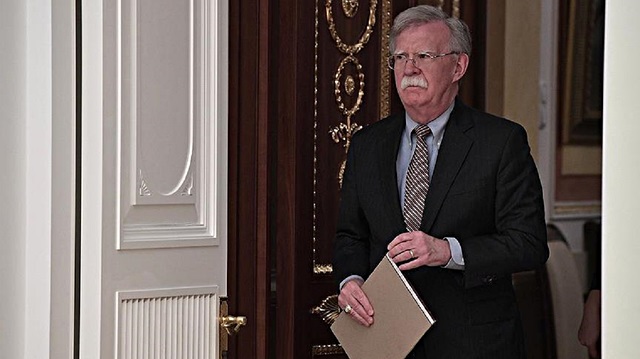 U.S. National Security Adviser John Bolton
Russia and the U.S. agreed to expand the coordination in Syria on all issues, U.S. National Security Adviser John Bolton said on Tuesday.
Speaking at a news conference following his two-day visit to Moscow, he said Syria was a key topic of discussion.
Commenting on organizing a demilitarized zone in the Syrian province of Idlib, he said a memorandum between Russia and Turkey is being implemented.
"As for Idlib, we discussed this topic. I repeated what President Trump said about the need to avoid a humanitarian disaster there.
"The agreement between Russia, Syria and Turkey is being implemented, although many unresolved issues remain. Idlib is one of the issues in the Syrian conflict," he said.
Following a meeting in Sochi last month between Turkish President Recep Tayyip Erdogan and his Russian counterpart Vladimir Putin, the two countries agreed to establish the Idlib demilitarized zone.
Ankara and Moscow also signed a memorandum of understanding calling for the "stabilization" of Idlib's de-escalation zone, in which acts of aggression are expressly prohibited.
Under the deal, opposition groups in Idlib will remain in areas in which they are already present, while Russia and Turkey will conduct joint patrols in the area with a view to preventing renewed fighting.
Syria has only just begun to emerge from a devastating conflict that began in 2011 when the Assad regime cracked down on demonstrators with unexpected ferocity.
#
Russian-Turkish agreement
5 years ago