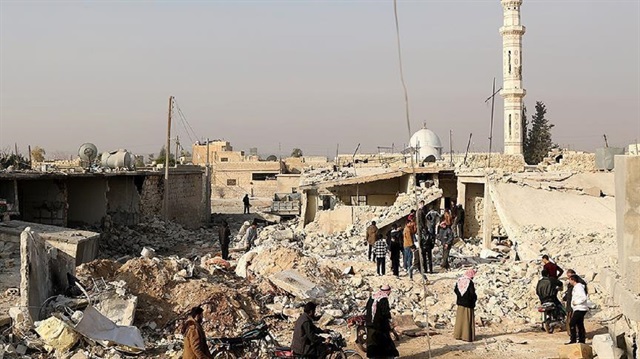 Fourteen people have been killed in Russian airstrikes in Syria's Idlib province, a local defense source said.
Mustafa Yusuf, chief of White Helmets, a Syrian civil defense agency, said at least nine people were killed and 10 wounded on late Friday in a strike in Idlib's Khan Assubul district by Russia.
Yusuf added that strikes on residential areas of the province continued on Saturday.
"Today [Saturday] at noon, at least five people, including two women and one child, have lost their lives in the air attacks conducted by Russian warplanes in Idlib's Kafer Battih and Sarjah," he said.
Rescue work in the area has ended and the wounded have been transferred to health centers, he added.
A civil defense center in Arihah district was also damaged in the strike, he said.
Idlib falls within a network of de-escalation zones -- endorsed by Turkey, Russia and Iran -- in which acts of aggression are expressly prohibited.
Syria has only just begun to emerge from a devastating civil war that began in early 2011 when the Assad regime cracked down on pro-democracy protests with unexpected ferocity.