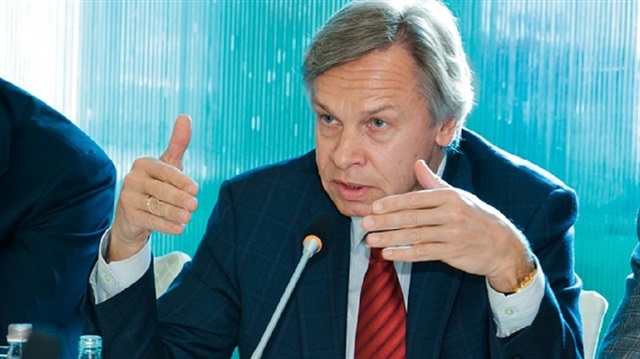 Russian senator Aleksey Pushkov has supported claims by Turkey's President Recep Tayyip Erdoğan stating that the U.S.-led coalition is supporting Daesh.
Pushkov, who heads the Russian Upper House Commission for Information Policy, tweeted "Erdoğan is right."
"There are many facts showing that the U.S. supports terrorist organizations. The efforts of the [U.S.] State Department to deny this obvious situation are absurd," he continued.
Эрдоган прав: есть много фактов, к-ые подтверждают поддержку терр.организаций со стороны США. Нелепы попытки Госдепа опровергнуть очевидное.

— Алексей Пушков (@Alexey_Pushkov) 27 Aralık 2016
In a joint press conference Erdoğan held with the President of Guinea, Alpha Conde, Erdoğan said that the coalition forces had not kept their promises to Turkey regarding the Euphrates Shield operation.
"They said, 'We will make the utmost efforts to fight the Daesh terrorist organization.'," Erdoğan continued.
"Quite the contrary, they give support to the YPG and PYD, including Daesh. It is quite loud and clear," he added.
The YPG is the armed offshoot of the PYD, which is linked to the PKK. The PKK is recognized as a terrorist organization by Turkey, the U.S. and the EU.
The U.S. has described the YPG as an "effective partner" in combatting Daesh.
US response
A U.S. spokesperson replied to Erdoğan's comments, saying his statement was "ludicrous," and that it has "no basis for truth."