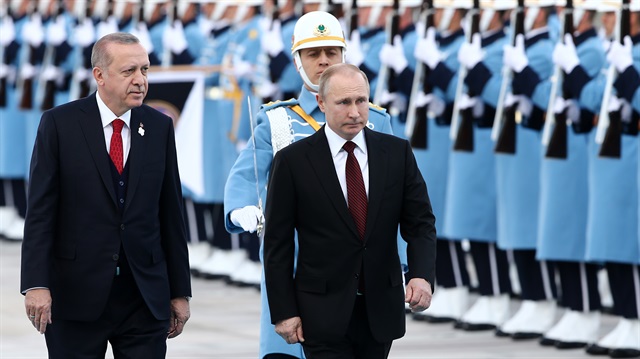 Turkish President Recep Tayyip Erdoğan (L) Russian President Vladimir Putin (R).
President Recep Tayyip Erdoğan welcomed his Russian counterpart Vladimir Putin to Turkey's capital Ankara with an official ceremony at the Presidential Palace complex on Tuesday.
Putin and his delegation arrived at Esenboğa Airport in Ankara on Tuesday afternoon. They were welcomed by Turkey's Deputy Foreign Minister Ahmet Yıldız and Russian Ambassador to Turkey Aleksey Yerhov and other Russian diplomats.
Putin and Erdoğan will hold a closed-door meeting, followed by a Turkey-Russia High-Level Cooperation Council meeting and a joint news conference.
The Russian president is on a two-day visit to Turkey where he will attend the opening of the Akkuyu Nuclear Power Plant and participate in a trilateral summit between Turkey, Russia and Iran on Wednesday.
"Akkuyu Power Plant will be safe and environmentally-healthy," Putin said, adding that the nuclear plan would be launched in 2023.
The ground breaking ceremony for Akkuyu in Turkey's southern Mersin province will see the participation of Turkey's President Recep Tayyip Erdoğan and Russian President Putin via video conference from Ankara.
The summit will focus on the latest developments in war-torn Syria, including the extension of the ceasefire, securing territorial integrity and preventing violations.
5 yıl önce