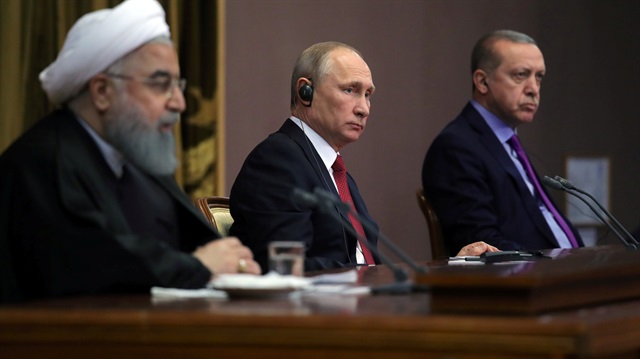 A trilateral summit bringing together Turkey, Russia and Iran is expected to focus on latest developments in war-torn Syria, according to diplomatic sources.
Turkish President Recep Tayyip Erdoğan will host the meeting in capital Ankara on Wednesday. Russian President Vladimir Putin and Iranian President Hassan Rouhani will attend the talks which will focus on the extension of the cease-fire in Syria, securing territorial integrity and preventing violations.
Senior officials of the three countries will gather on Tuesday to work on a joint declaration which will be released after the summit.
The declaration will demand an extension to a 30-day UN cease-fire resolution adopted late in February, said the sources, who requested anonymity due to restrictions on speaking to the media.
Top diplomats Mevlüt Çavuşoğlu, Sergey Lavrov and Javad Zarif from Turkey, Russia and Iran, respectively, will discuss solutions to the conflict.
The leaders will also hold bilateral talks.
Turkey, Russia and Iran are the guarantor countries of de-escalation zones in Syria.
Akkuyu Nuclear Power Plant
Putin and Erdoğan will also officially launch the first unit of Turkey's Akkuyu nuclear power station, the Kremlin said in a statement.
The Akkuyu Nuclear Power Plant is located in Turkey's Mersin province. It will be the country's first nuclear power plant.
The plant, with a total investment cost of about $20 billion, will have a working life of 8,000 hours per year.
The Akkuyu NPP will produce 35 billion kilowatts of electricity at full capacity, which will cover more than 10 percent of Turkey's electricity needs, or equivalent to the electricity demand of Istanbul.
The plant has an operational date set for the first reactor by 2023 while the plant is expected to be up and running at full capacity by 2025.