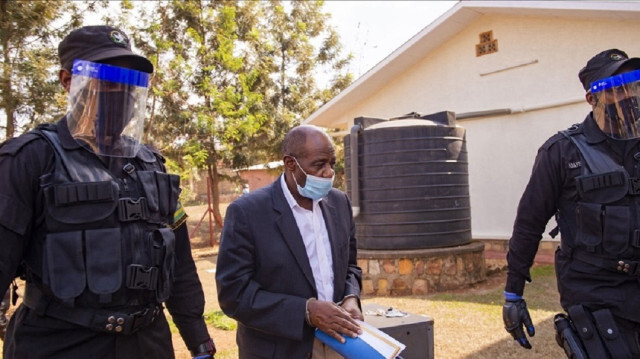 Rwanda is set to release dissident Paul Rusesabagina, who was portrayed as a hero in the Oscar-nominated movie Hotel Rwanda after President Paul Kagame issued a pardon, the government announced Friday.
Rusesabagina, 68, was convicted on multiple counts in September 2021 in a trial he boycotted claiming there was "unfairness and a lack of independence."
The conviction was related to acts of terrorism committed by the National Liberation Front (FLN) rebel group in 2018, which claimed the lives of nine civilians in southwest Rwanda.
Rwanda's appeals court last April upheld a 25-year prison sentence for Rusesabagina following an appeal by the prosecution.
A statement by the Justice Ministry said the sentence has been "commuted by presidential order after consideration of a request for clemency."
Rusesabagina will be released along with 19 members of his group, including Callixte Nsabimana, aka Sankara, who was a spokesman for the FLN and had been sentenced to 15 years, according to the statement.
The government warned that if beneficiaries of the pardon repeat offenses of similar nature, the commutation can be revoked.
US Secretary of State Antony Blinken while visiting Rwanda in August, said he discussed with Kagame the trial and imprisonment of Rusesabagina.
Blinken said the US had a "conviction that the trial wasn't fair."
The US maintained that Rusesabagina, a US permanent resident, had been "wrongfully detained."
But the Rwandan government insisted that he was "tried and convicted for serious crimes committed against Rwandan citizens."
US Senator Jim Risch for the state of Idaho and a ranking member of the Senate Foreign Relations Committee, commended the pardon.
"I am heartened to learn of Paul Rusesabagina's impending release from a Rwandan prison. Throughout his nearly 31-month incarceration, I have followed his case closely and encouraged the United States and Rwandan governments to work toward a resolution," he said in a statement.
Rusesabagina inspired the Hollywood film, in which, as a hotelier, he is depicted as having sheltered people during Rwanda's 1994 genocide.
The 2004 film told the story of how Rusesabagina used his influence as manager of the Mille Collines Hotel in Kigali to bribe and convince military officials to secure a safe escape for 1,200 people who had sought refuge in the hotel.
But IBUKA, an umbrella body of genocide survivors' associations in Rwanda, said he exaggerated his own role in helping refugees escape the massacre.
Rusesabagina was arrested in August 2020, prompting claims of kidnapping by international rights activists.
He had reportedly been in the United Arab Emirates (UAE), where he departed legally on a private jet, he thought was headed to Burundi but ended up landing in Rwanda.
The UAE denied any involvement in the arrest.
The Rwandan president also denied the kidnap claims.
2 ay önce