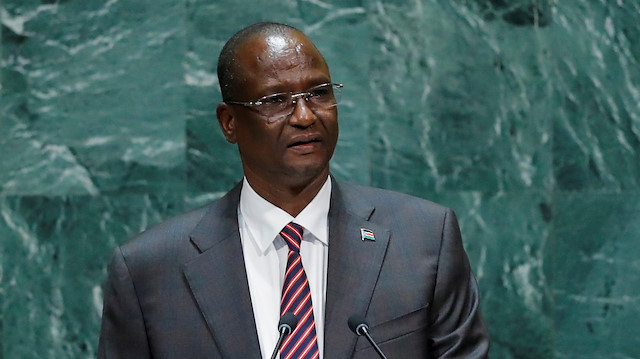 South Sudanese First Vice President Taban Deng Gai on Thursday denied committing human rights violations and obstructing the ongoing peace process in the wake of being sanctioned by the U.S.
"I have been wrongly accused of serious human rights abuses and sanctioned by the U.S State Department of the Treasury's Office Foreign Assets Control," Deng said in a statement. "I deeply regret those baseless and unfounded allegations and wish to assure the international community, and above all the people of South Sudan, that my life has always been dedicated to the building of a peaceful and prosperous South Sudan."
He said that he worked tirelessly to force alliances to create a path to peace and prosperity and it is the reason why he continues to serve as First Vice President of the Republic of South Sudan.
"As a proud South Sudanese, I have always fought for the sovereignty of the Republic of South Sudan and the independence of its people from 1983 to 2005 when Sudan and Sudan Peoples' Liberation Movement signed Comprehensive Peace Agreement. Since 2011 when South Sudan became independent until now in 2020 my commitment towards peace and unity had only grown stronger."
The U.S. Treasury Department sanctioned Deng on Wednesday for his alleged involvement in serious human rights abuses, including the disappearance and deaths of civilians.
The State Department said Deng advised and influenced another South Sudanese government official in January 2017 to execute human rights lawyer Dong Samuel Luak and Aggrey Idri, a member of the Sudan People's Liberation Movement-in opposition (SPLM-IO) after they were kidnapped from Kenya.
Juba denied the abductions, instead referring their case to the Kenyan government.
"Deng ostensibly believed that by murdering Dong and Aggrey he would weaken support for opposition leader Riek Machar and thus solidify his political position within the SPLM-IO and keep his position as First Vice President," the U.S. said.
However, the first vice president vowed to continue working with the U.S and the international community in a bid to demonstrate the government's commitment to end impunity and building democracy and strengthening the rule of law in South Sudan.
Deng, who was formerly a member of Riek Machar's SPLM-IO, defected from the armed opposition party in the aftermath of renewed violence in July 2016, where he replaced Machar as first vice president.
"As such, I pledge to continue working with the United States and the international community at large to demonstrate such commitment and prove the unfounded nature of the allegations made towards me," he said.
U.S. Deputy Secretary Justin G.Muzinich accused Deng of acting to sow distrust within the SPLM-IO and the broader Nuer community.
"Taban Deng Gai's attempt to silence the opposition party is derailing the country's ability to implement a peace agreement," he said.
"The United States calls on all nations to exclude from the international financial system those who jeopardize South Sudan's future," added Muzinich.
The U.S. has since 2017 slapped sanctions and travel restrictions on government and opposition officials on grounds they have been fueling the five-year conflict and also obstructing implementation of the revitalized peace deal signed in September 2018 in Ethiopia.
The U.S. last month also sanctioned Kuol Manyang Juuk, the defense minister and Martin Elia Lomuro, cabinet affairs minister for fanning the conflict.
South Sudan slid into crisis when Kiir sacked Machar as vice president in December 2013 on suspicion of plotting a coup, followed by a protracted civil war that claimed the lives of tens of thousands of people and forced 4 million people to flee their homes.