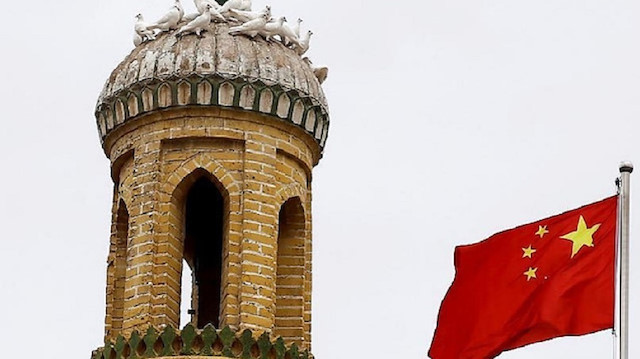 Satellite imagery posted by activists appears to show that the Chinese government is systematically destroying landmark mosques in the Muslim Xinjiang Autonomous region as human rights organizations step up their criticism of Beijing over its abuse of minority Uyghur Muslims in so-called "reeducation camps."
Tweets by two prominent activists cited by a EuroNews report show at least two landmark mosques in Xinjiang have been destroyed as evidenced by before-and-after satellite imagery.
Among the destroyed mosques is the 800-year-old Keriya Aitika Mosque in the city of Hotan, which was built in 1237 and inducted to the Chinese Architectural Heritage in late 2017.
where has this mosque gone? Keriya Aitika Mosque. more than 800 year history, disappeared in early 2018 despite selected as Chinese architectural heritage in late 2017. pic.twitter.com/2BnSRe90kr

— Shawn Zhang (@shawnwzhang) 2 Nisan 2019
Unconfirmed reports also claimed that the Kargilik Mosque was also razed by the Chinese government.
Satellite imagery indicates that, beyond detaining one million Uighur Muslims in the Xinjiang region, China has destroyed at least two historic mosques: @Bellingcat. https://t.co/rrsokPZmxU pic.twitter.com/kzQJ4mNJlz

— Kenneth Roth (@KenRoth) 7 Nisan 2019
In a report last September, Human Rights Watch (HRW) accused the Chinese government of a "systematic campaign of human rights violations" against Uighur Muslims in Xinjiang.
According to the 117-page report released by HRW, the government conducted "mass arbitrary detention, torture and mistreatment" of Uighur Turks in the region.
Chinese authorities have repeatedly stated that they are detaining people accused of minor crimes and that they are being held in re-education centers, where they enjoy their time and are 'grateful' to be there. However, personal accounts from former detainees paint an Orwellian picture where Uighurs are prevented from observing their religious duties.
The Uighur people are of Turkic ethnicity, and although they form a majority in the Muslim Xinjiang Autonomous Region, they are a minority in China.