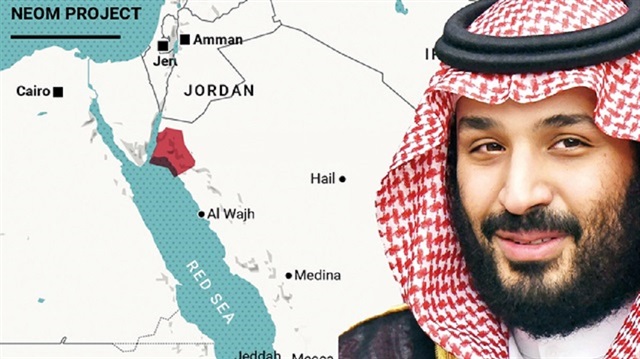 The Riyadh administration has allocated a 16.000-square kilometer zone, which has recently been declared as Crown Prince Mohammed bin Salman's private property, for Israel to use as a chemical weapons storage, according to reports.
Riyadh has declared this area a "restricted zone," and will also be used for the military purposes of a Israel-Saudi Arabia collaboration in the Tabouk region, where the planned $500 billion mega-city Neom will be built.
Ahbar al-Saudi news Agency reported that Saudi has decided to evacuate cities within this prohibited region, including the residential areas of Sharma, Sugra, Muwailih, Duba.
Two small, uninhabited islands, Tiran and Sanafir, are on the border of this restricted territory. Eilat, a southern Israeli resort town on the Gulf of Aqaba, where Israel's largest naval base is located is also on the border of these banned territories.
Storing chemical weapons in steep valleys
Turkish researcher Mehmet Emin Akın said that "Israel and Saudi Arabia will designate this oil and gold-rich region in Tabouk for their land and air military exercises."
"Israel will use the steep valleys in this region as a chemical weapons storage," he added.
Underlining the transferal of the Tiran-Sanafir Islands to Saudi Arabia, "Egypt, Jordan and the United Arab Emirates are also participating in the deal and are a part of it," Akın said.
Egyptian President Abdel Fattah al-Sisi had ratified an agreement that cedes sovereignty over two uninhabited Red Sea islands, Sanafir and Tiran, to Saudi Arabia back in June.
Saudi Arabia's crown prince said in a published interview that Israelis are entitled to live peacefully on their own land, another public sign of an apparent thawing in ties between the two countries in March 2018; also Riyadh had opened its air space for the first time to a commercial flight to Israel early this year.
All these are being strangely received due to the fact that Saudi Arabia does not have official diplomatic relations with Israel.
King Salman's personal ambition
Speaking to Yeni Şafak daily, Turkish journalist Mustafa Özcan said, "Saudi Arabia's Crown Prince Salman is a novice leader who is ready to give any kind of concession to build his personal area of sovereignty."
He stated that these moves of Israel and Saudi Arabia should be seen as a sequence of the steps taken in the last months.
"Muhammed bin Salman's political ambition will cause different kind of disasters in the region," Özcan added.
Özcan concluded by saying that "Israel would make unexpected moves in the regions where Israelis have history, including Haybar tower."
5 years ago