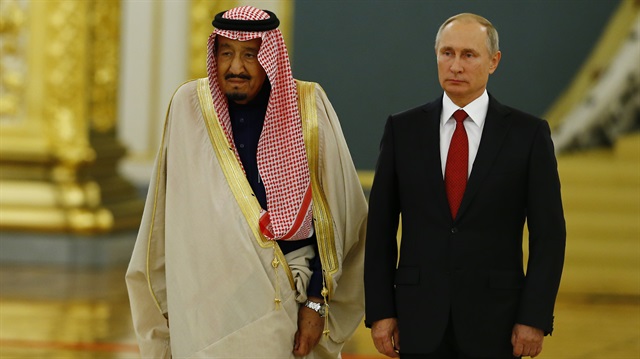 Saudi Arabia's King Salman said at the start of talks in Moscow with Russian leader Vladimir Putin on Thursday that the territorial integrity of Iraq must be preserved.
In opening remarks broadcast on Russian television, the king said a political solution to the conflict in Syria must be found that keeps that country in one piece.
He also said the international community must take responsibility for what is happening to the Muslim Rohingya community in Myanmar.
Putin accepts invitation to visit Saudi Arabia
Russian President Vladimir Putin, at the start of the talks , said he had accepted an invitation from the king to visit the country.
Moscow, Riyadh to work on oil price stability
Russia and Saudi Arabia will continue to work on stabilising world oil markets, Saudi King Salman said.
Salman, met by Putin in the Kremlin, said he was convinced that there were opportunities to diversify economic cooperation with Russia.
Saudi Arabia wants to establish an international centre to fight terrorism under the aegis of the United Nations, Salman said. He also said he wanted to see an independent Palestinian state with a capital in East Jerusalem.
Saudi King Salman demands Iran stop meddling in Middle East
Iran must stop meddling in the Middle East, King Salman said.
"We emphasize that the security and stability of the Gulf region and the Middle East is an urgent necessity for achieving stability and security in Yemen," Salman said.
"This would demand that Iran give up interference with the internal affairs of the region, to give up actions destabilizing the situation in this region."