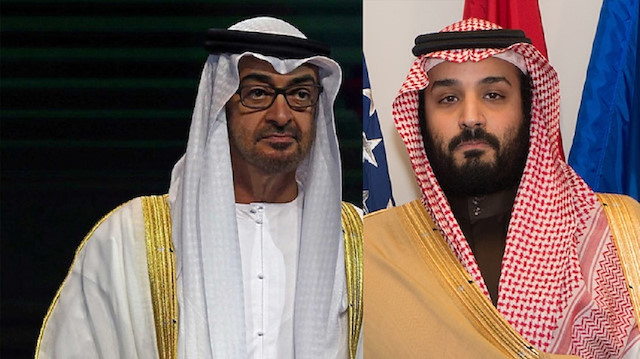 Saudi Arabia and the United Arab Emirates (UAE) are thought to be stirring unrest in Sudan after the country rejected sizable aid money in return for severing its ties with Turkey, Qatar and Iran.
Sudanese National Congress Party Leader Mohammad Mustafa cited an unnamed country that offered Sudan the money in exchange for downgrading ties with Turkey as Ankara's efforts to revive the Suakin Island port on the Red Sea made Abu Dhabi and Riyadh uneasy.
"Sever your ties to Turkey"
According to a Sudanese news report, the unnamed country offered to send aid that would have enabled Sudan to lower soaring gas and bread prices, which triggered the protests that have sent the country into chaos, in exchange for cutting its ties with Turkey, Iran, Qatar and the Muslim Brotherhood.
According to Mustafa, accepting the offer in question would have shown "ungratefulness" toward Turkey and Qatar who invested heavily in the African country.
Qatari Emir Sheikh Tamim bin Hamad al-Thani had met with Sudanese President on Dec. 22 and expressed Doha's support for the country.
At least 37 people have been reportedly killed in several Sudanese provinces since the beginning of the protests on Dec. 19.
On Monday, Sudanese President Omar al-Bashir, who has been in power since 1989, pledged to carry out economic reforms amid street protests over price hikes and a shortage of basic commodities.
A nation of 40 million people, Sudan has struggled to recover from the loss of three quarters of its oil output -- its main source of foreign currency -- when South Sudan seceded in 2011.
The U.S. started to impose economic embargo on Sudan in 1997 for terror abet reason but pledged to lift it in January.
Back in January, Turkey's state-run aid agency had started to renovate a historic port city in Sudan, a Horn of Africa nation the Turkish president visited last year, the agency said on Tuesday.
Thirty architects and experts in ground drilling, urban planning, geology and geophysical exploration, maps, and restoration started to work on Suakin Island, in northeastern Sudan, the Turkish Cooperation and Coordination Agency (TIKA) said in a statement.
The island's Ottoman-era Hanafi and Shafi'i mosques, and an old customs building, will be restored by the agency, said the statement.
Suakin, one of the oldest seaports in Africa, used to be used by African Muslims on pilgrimages to Saudi Arabia.
The Ottomans had used the port city to secure the Hejaz province -- present-day western Saudi Arabia -- from attackers using the Red Sea front.