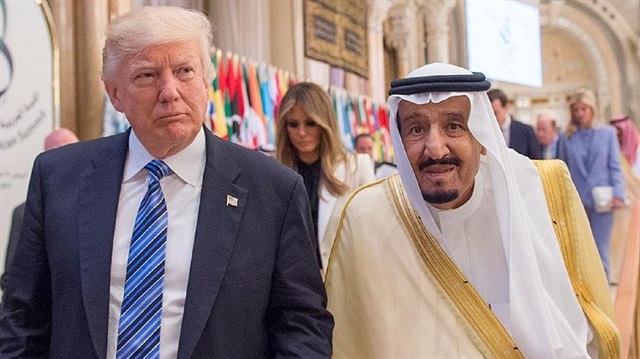 US President Trump and Saudi's King Salman
Saudi officials have registered their dissatisfaction with an image used by pro-Palestine demonstrators in Algiers comparing U.S. President Donald Trump to Saudi King Salman bin Abdul Aziz.
On Saturday, supporters of Algeria's Ain Melilla football club staged a pro-Palestine rally in an Algiers stadium.
Some of them carried a massive banner portraying a composite image of a face, half of which belonged to the U.S. leader while the other half belonged to the Saudi king.
The banner was accompanied by a caption, reading: "Two faces for the same coin."
The image was intended to express dissatisfaction with Trump's decision earlier this month to recognize Jerusalem as Israel's capital -- a move that triggered widespread condemnation and protest across the Arab and Muslim world.
The following day, Saudi Ambassador to Algeria Sami bin Abdullah al-Saleh voiced the Saudi kingdom's "annoyance" with the image.
"We will look into the authenticity of this image and take the appropriate response," al-Saleh tweeted.
On Sunday, with Algerian and Saudi activists widely sharing the image on social media, Saudi media outlets were describing the incident as an "insult" to King Salman.
The Algerian authorities, for their part, have yet to issue a statement on the issue.
On Monday, Abdullah bin Mohammed bin Ibrahim al-Sheikh, the chairman of the Saudi Shura Council, arrived in Algeria to discuss bilateral ties with Algerian officials.
5 years ago